My Ultherapy Before and After Photos are Here!

(I'm revising this post, almost two years after having this procedure, as my opinion has changed in that time). I must love you ladies a lot to post my Ultherapy Before and After photos. The lighting is no lover here. Any old boyfriends or men who adore me (including you Henry) click away. Because what follows are some pretty unattractive photos a la mug shots of Heather Locklear post-bender.
They're not flattering, but they are scientifically accurate.

As you may or may not know, I had an Ultherapy treatment with Dr. Rebecca Fitzgerald. I detail my adventure HERE and continued HERE and HERE. Ultherapy is "a novel micro-focused ultra-sound modality for non-invasive, non-surgical skin rejuvenation and lifting."
For a few years, I'd noticed my neck taking a dive and wanted to firm things up. What I didn't realize is that the Ultherapy wand isn't yet used right on the neck. They haven't yet developed an instrument that can pass over the larynx accurately.
So, Ultherapy is targeted at the area just under the jawline, which, by virtue of proximity, can help lift the neck.

Many of you wanted to know why the Ultherapy treatment is so expensive ($3,000 for the whole face and the jawline – considerably less if you do just the face or just the jawline).
Dr. Fitzgerald explained that because this is brand new technology customers are paying for research and development and product costs. She likened it to any other kind of technology — computers, iphones, televisions. They all start out expensive and over time become more affordable, which she says will be the case with Ultherapy.
Full disclosure: My Ultherapy treatment was complimentary so I'm more likely than somebody who paid full price to be happy with my results. The first set of results photos Dr. Fitzgerald took were 6 months after my treatment and I saw absolutely NO change.
Recently, however, I came back for follow-up photographs (now, nearly 2 years later) and I absolutely DO SEE CHANGE.

I think my face and jawline is visibly lifted. But had I not had the follow-up photos I probably wouldn't have noticed it myself. Without further ado, here I am, not looking my most glamourous. I am wearing lipstick in my After photo, but no other make-up at all. Do you see results?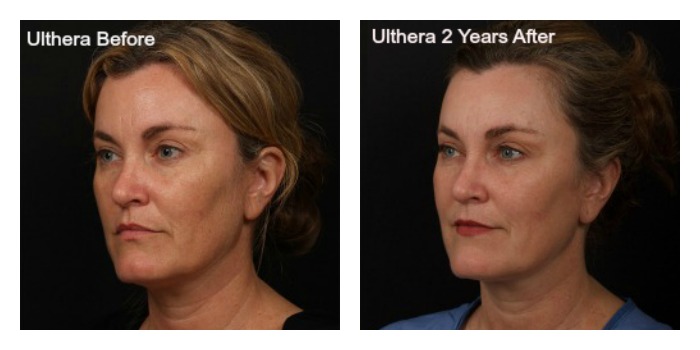 If you read comments below, you will see responses to my previous article, not this updated version.