She's packed Heat,
Jumped out of airplanes over 400 times,
Ridden Motocross and got clotheslined off a bike in Mexico,
Lived on and scuba-dived off sailboats from the Caribbean to Dubai.
I can't say I've met another woman quite like this badass adrenaline junkie and mother.
Lizzie Lau is an inspiration as having a Life-Well-Lived. (With decades to go!)

Even so, she has some regrets, and has learned to make peace with them. I give you guest-blogger, Lizzie Lau:

"I didn't cry when I first watched Adele's 'Hello' video, but every time I hear it, it speaks directly to my shame and I feel gutted.
"I've alluded to unpopular decisions in my past before, but I haven't really shared anything super personal or even vaguely incriminating on my blog.
"I'm here to say that I've made some terrible, terrible decisions.

"I'd love to say that I was tricked, duped, under a spell, or in some other way shuffle off the blame, but I take responsibility.
"My confession: the last three relationships I've been in, including my last two marriages, began while the men were still married to or living with a significant other.
"It's true, I didn't have all the facts, but I KNEW that I didn't have all the facts. I knew I was wrong. I've hurt people. Left a path of destruction. Unforgivable behavior really.
"However, I've been mulling over an idea ever since a friend and I exited the movie theatre after seeing 'Wild' over a year ago.
"On the stroll back to the car, she started to say something about the movie and I said, 'I can't talk about it yet.'
"I was super emotional, and felt raw and exposed by the story, even though it wasn't even close to mine. It's taken me a long time to process, but I have finally wrapped my head around a core theme of the movie:
"WHAT IF I CAN FORGIVE MYSELF?
"What if, instead of calling the past and begging forgiveness of people who have moved on and don't need closure, I finally let myself off the hook. What would that look like?
"What would it feel like to shake off this heavy mantel of guilt and shame?
"I've been sorry for years and it didn't do anybody any good. The shame I've felt made me feel unworthy for a long time, and stripped my confidence in my ability to be a decent judge of character.
"I have actually convened a committee of friends who will vet any guy I consider dating because I can't be trusted to make the wise choice.
"Case in point, I found Juan Pablo (the most reviled 'Bachelor' in the history of the show) wildly attractive.
"My character development shifted gears the moment I met my baby daughter. These days, I'm wiser, stronger, much more ethical.
When I was pregnant, I was living in Guatemala city, carrying a Glock 9mm (with a 32 round magazine) in my purse.

I was riding my dirt bike up staircases in the city to avoid sketchy law enforcement, trespassing on private property, feeling completely entitled to do whatever-the-hell I pleased, and felt immortal.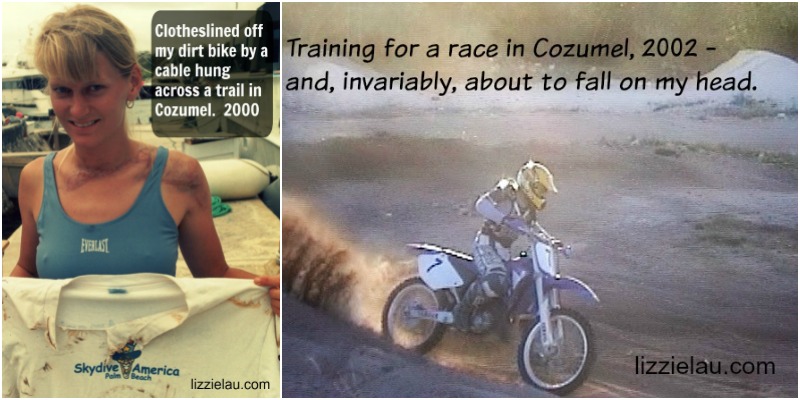 "I flew to California to hang out with my parents and have the baby assuming I would take her straight back to Guatemala after she was born.
"Looking into her eyes for the first time, I knew instantly that life as I knew it was over. I never went back to Central America. In fact, it was 6 years ago and all my stuff is still down there.
"I just read Drew Barrymore's book, 'Wildflower,' and totally related to how she describes her 180 degree attitude adjustment after having kids. No more flashing tits at David Letterman for one thing!
"Before reading her book I felt a bit like a hypocrite (because of who I'd been before) for being accountable, responsible, and moral, and demanding appropriate behavior from those around me.
"Reading her story galvanized the idea that I can be both the person who inexcusably did those shitty things in the past, and a person who wouldn't do them now.
"Today I'm allowing myself to relax into my new normal. I'm ready to forgive myself and see what happens next."