I'm taking a brief writing sabbatical because my brain is tired, so today's guest post comes from Aussa Lorens of Hacker. Ninja. Hooker. Spy.
She's the badass younger version of the me I always meant to be, but never was. I realize that makes no sense. It's the Coronas talkin'.
Aussa's una mujer de fuego, and not just because she's a redhead. Enjoy her advice on how to have a threesome in Vietnam. Aussa writes:
"In the Spring of 2010 I broke up with my (sort of) boyfriend while we were on a road trip. Immediately afterwards I booked a One-Way flight to Beijing and eventually found my way to Hanoi, Vietnam.
(Author Aside: Because that's what I would do. Book a break-up trip to China, rather than eat three chocolate cakes drowned in Prosecco.)
"It was my first time in Asia and I wanted to do it right, which meant staying at Hanoi Backpackers, a well-known party hostel that boasts a complementary keg in the lobby where sunburnt arms and legs bump into each other while risking dysentery for the sake of a decent buzz.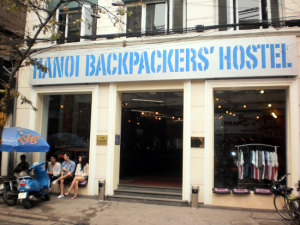 Shortly after checking in, I met a couple girls from Slovakia who were impressed that I'd been to their hometown and Bratislava and rewarded me with an invite to see Ho Chi Minh's mausoleum the next morning.
I was thrilled, seeing as I rarely pass up the opportunity to visit the body of an embalmed Communist revolutionary.
We made plans to meet at 6AM before I climbed the five flights of spiral stairs up to my dorm. I was planning to get some sleep, but found a massive cross-cultural drinking game in play.
A surging hoard of intoxicated and half-clothed Europeans sat in a semi-circle yelling vulgar phrases at each other, whilst taking shots.
Resisting the urge to join in, I climbed through them, steadying myself on their shoulders as I tripped over empty vodka bottles.
A small partition separated my bunk bed from the rest of the room and I'd been fortunate enough to score a bottom bunk, which is one of the most coveted luxuries for a backpacker.
I managed to drift off to the sound of their drinking, turning their accented voices into my own lullaby…
Then suddenly, I was awake.
I checked the time. 2:30AM. Why am I awake?
The room was dark and quiet and I could hear the familiar sound of sleeping bodies around me. But there was another noise as well. In the bunk above me.
Oh God, please no.
The wet fluid sound of movement. A feminine moan, muffled beneath a blanket.
My fight-or-flight response kicked in as I frantically searched for my iPod. Plugging it into my ears, I told myself this was merely the circle of life.
But then it got louder.
I turned up the volume and tried to focus on the music, the mausoleum, my need for sleep.
But now they were moaning continuously. Drunkenly, they moaned. Male and female, they moaned.
I switched to the loudest song I could find, trying to lose myself in the deep bass line and loud applause. I was almost there when a raspy voiced screamed out in the night.
"OH MY GOD, THAT WAS THE BEST ORGASM I'VE EVER HAD!"
I imagined Ho Chi Minh, embalmed and encased in glass a few blocks away, shifting uncomfortably in his eternal sleep.
"You couldn't have sprung for a single room?"
I told myself the worst was over, but it had only just begun. There wasn't a song in my iPod that could contend with the performance playing on the bunk above.
The bed rocked, slammed, swayed, and bowed with every thrust.
For the next two and a half hours, I watched the wooden slats above my head, waiting for them to snap from the passion, and bury me beneath their amorous weight.
I could already see the headlines:
"American Girl Dies When Copulating Couple Crushes Her In Love."
"Backpacker Killed By Fornicating Top-Bunkers."
"Bunk Beds Recalled After Drunken Thrusting Leads To Death."
###
Somewhere, between her panting and squealing, she remembered to make him wear a condom.
"Oookay," he slurred, heaving himself to the side of the bed. He fumbled with the ladder. "I can't find the stairs?"
By 5AM, they were finally done.
It was too late for me to get any sleep, so I headed downstairs to meet the Slovakian girls. I was glad to be alive, but traumatized nonetheless.
It seemed appropriate that we spent the rest of the morning being shoved and shouted at by humorless soldiers with fixed bayonets.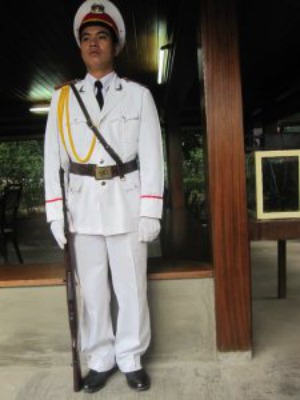 Any other day, I might have been intimidated by their emotionless and rigid demeanor but I was strung-out on passion and acrobatics.
I couldn't be bothered to find Ho Chi Minh the least bit creepy as he glowed in his casket. If anything, I was immensely jealous of all that sleep he was getting."
(The Author could not take a photo of the embalmed dictator under penalty of death.)
Aussa Lorens writes at Hacker. Ninja. Hooker. Spy. She doesn't make good choices, but she does have good stories, and that's why her blog exists. If there is anything to be learned from her ill-fated travels, bad relationships, and job at a psychiatric hospital, it's that some mistakes are too good not to share.