The Dangers of Volunteerism
Here's what happens when an ordinary West Los Angeles mother of two volunteers at her children's school to teach the 10-Minute Play to 15 1st graders after she forgot to eat lunch.
Blood sugar levels fall precipitously low triggering:
Shaking (students by the neck)
Fast heartbeat (followed by lying on the cafeteria table while the students fan her with Pee Chees)
Sweating (enough that the janitor has to come in and mop her brow)
Dizziness (resulting in the P.E. coach needing to administer mouth-to-mouth)
Feeling anxious (her husband might read this)
Hunger (for anything slathered in salted pork butt mixed with Nutella)
Vision problems (resulting in discovering 5th graders in the boy's bathroom running an underground gambling ring)
Weakness (for the gaming tables)
Headache (from losing 50 large to a kid named Leonardo)
Feeling irritable (bowel syndrome)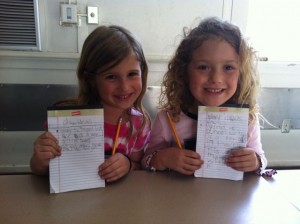 But that wasn't the end of it.
After I packed up all the play notebooks and pencils and took the kids back to the Room 1 patio so they could find their parents I suggested to Clare and Bridget that we skip cooking dinner.
That's when the real crime took place. We snuck up, attacked and rapaciously rampaged:
12 McDonald's chicken nuggets
3 bags of Mickey D fries
1 sinfully delicious Club Sandwich.
3 ice cream cones
1 gin and tonic (no they don't make those at McDonald's – put your keys away).