Last night —
I decided to play Monopoly with my daughters instead of allowing them to watch A Dolphin's Tale for the fiftieth time. I was trying to be a good parent. This is what I got for my efforts.
Clare: (with a jaundiced eye) Mom, stop lifting your boobs up and setting them on the table.
Me: You saw that?
Clare: Yes.
Bridget: Mommy put her boobs on the table? That's disgusting!
Me: Disgusting! Do you know why I have to pick my boobs up and put them on the table? Because you sucked the life out of them.
Bridget: I didn't ask to do that!
Me: I didn't ask Jesus to give his life for me. That's why I resent Jesus. I never asked him!
Clare: What do your boobs have to do with Jesus?
Me: It's obvious!
Clare: No, it's not!
Bridget: Wait. I thought we were Hanukkans?
Me: Sweet Jesus.
Clare: Don't take the Lord's name in vain.
Bridget: Next time Mommy just wear your sleep bra.
Clare: The French women do it.
Kapow! Sound of self-inflicted gun shot wound.
In case anyone wants to know I would like to have my breasts cremated.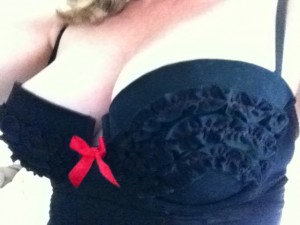 ___________________________________________________________
What don't your kids appreciate?