And Other Memories of a Boy Gone too Soon

Prince, David Bowie, Glen Frey and Alan Rickman made me think of a Gone Boy who might've left a legacy as bright as theirs.
He would've turned fifty-one last month. He died in the month of March when he was twenty-eight; killed by a dummy bullet from a prop gun on the set of a movie.
He was a well-known martial artist's son, but 100% his own man.
I was sitting in a deli the other day eating lunch with my daughters, who are thirteen and eleven now, when I noticed a poster of his dad hanging just above our heads and it occurred to me they could've been his grandchildren if the boy hadn't died.
Well, and if we hadn't broken up in his house on a sad, soft June night I can remember like it was the blink of an eye ago.
(And, of course, if he hadn't fallen more deeply in love with his next Love.)
I'm turning corners more quickly now.

I only have so many years left before I can get my first book properly published.
Only so many minutes before my children are adults. Only so many seconds before I turn fifty-one.
These are the things I remember about the Gone Boy.
Hazel eyes. Slippery black hair. Fluidity of motion. Chipped front teeth. Velvety skin. A goofy laugh. A whipsmart brain.
He seemed indestructibly alive. I suppose his death was the first one that made me realize how thin and permeable the layer is between life and death, but it didn't help me understand how to feel about it.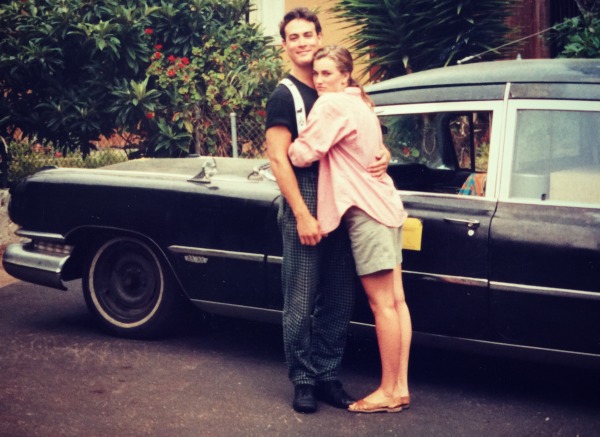 I've changed this year. My wrists hurt doing certain exercises, the yogic Downward Dog, the Chaturanga.

I have ten pairs of reading glasses in a variety of colors that manage to hide themselves around my house like Easter eggs.
I can't do anything up close without them; which includes defusing bombs. You never know, I may have to someday.
And sometimes, for no damned apparent reason, I have bouts of vertigo.
I'll be standing there talking to someone, minding my own business, when suddenly I'll discover my body has fallen against a wall, or into some juniper bushes.
As my body goes about the business of aging against my will, I wax sentimental at best, maudlin at worst.
I think about the fact that my husband is hurtling along five years ahead of me.
I think about the narrowing margin of time I have to witness my daughter's lives. When they're my age I'll be 87 and 89! What the hell?
I wonder if the Gone Boy still lives somewhere?

I remember the moment he unexpectedly appeared, early in our relationship, and caught me "having a moment" with one of the jets in his Jacuzzi bathtub.
I was mortified. (Typing it mortifies me too, but at 50, oh well.)
"I see you've made a new friend," he noted wryly. Which made both of us laugh.
That moment still lives, so he must too.
---
This post is dedicated to all of the family, friends, lovers and role models who lived perfect imperfect lives, except they left us too soon.
Mine include Brandon Lee, Ion Hartunian, Garett Breeland and Guido Bart. You are missed. Feel free to leave the names of the ones you loved in the comments below.