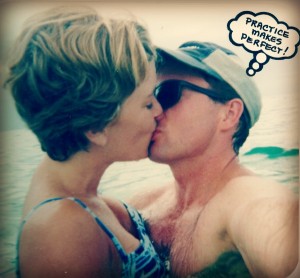 Marriage advice from a Wife Dominatrix:
Last weekend I wanted to eat my husband alive.
His eyes were more cerulean than a 'Sconset sky on a bike-ride Sunday.
His pecs were glorious mounds of muscled filet mignon and just looking at his wrists and hands, both surgeon-pianist delicate and stevedore strong, had me feeling decidedly … how shall we say, motivated?
If you are my mother-in-law stop reading right now … I'm serious, just walk away … go whip up a batch of Coq au Vin …
I can still see you hiding behind the potted fern in the vestibule … I'm contacting Edward Snowden in the furthest reaches of Siberia to have him hack into your computer and shut it down … and we only communicate in cryptographic code.
Alright. I think that scared her.
Why? Why did I find my husband of thirteen years (on May 27th) so hot I was tempted to become a cannibal?
I'll tell you why. There were no children around. Not. One.
It took me almost eleven years to realize that when my mom comes down to visit us from her gorgeous ranch-style home in Hope Ranch, Santa Barbara, that means her home is EMPTY.
No one is there.
There are whole empty bedrooms with empty beds. There's a whole empty kitchen with a full refrigerator.
There's an incredible mountain view that NO ONE is seeing.
And guess what? Henry and I don't have to pay to stay there. It's actually free!!!
I had a bonafide AHA! Moment!
My mom can stay here with the kids, and Henry and I can drive two hours away, let ourselves in my mom's house, disconnect all means of communication on our bodies and in our bags and actually BE ALONE!
Over the last year, it's been really hard to find our Couple Mojo, because the onslaught of two girls in puberty has maimed our romantic love receptors.
We've basically been roommates who tag teamed with the kids.
And I thought, well, I like the guy. He's really kind, he's really helpful, he saves my ass day after day by taking over 50% of the parenting, he's just an all out good guy who I use as a security blanket at night, pressing my chest into his back and sleeping as spoons.
But romance? Had to force it.
Guess what? All it took was 48 hours alone, not as parents, for me to fall in love with my man all over again.
We're home now. The closer our vehicle came to our house the Romance Door began to close again.
And when we opened our front door, and two beloved daughters rushed into our arms to tell us how much of an asshole the other one had been while we were gone, the Romance Door slammed shut and we were parents again.
But here's the good news, we can do this again, maybe in the not too distant future.
And now I know the man I'm hot for is still there and he's better than anything else going.
If you enjoyed this article you'll love Bradley-Colleary's book, "Married Sex: Fact & Fiction." You can grab it HERE!