Friday night our daughters Bridget and Clare both had sleepovers elsewhere.
They were gone by 5:30 p.m. and were not to return until the following morning. Henry and I were home alone for the first time since the new millennium. Should we go out?
Here's what that looks like:
We shower in separate bathrooms, do our various ablutions; the flossing, Water Pic-ing, shaving and exfoliating, put on our good-smelling lotions and perfumes, get dolled up and go. Then we plunder some mall for dinner and a movie.
We both try not to eat the bread. I have two drinks and flirt disingenuously. Henry has a seltzer with no lemon and tries to avoid my wine breath. We eat red meat and puffy potatoes. I have chocolate souffle and Henry has vanilla bean ice cream.
After going to the Roman vomitorium, we waddle to the theater and watch either a Bourne-like movie where I ogle the actioner's biceps, or a Will Farrell movie where we laugh our asses off then forget what we saw five minutes later.
We return home around 11:00 and promise to meet in bed just after he plays 10 minutes of Tour of Duty and I dive into the internet to emerge feeling over-stimulated and slimy.
Then we have quick, perfunctory sex and go to sleep.
Or we just go to sleep. Yes. This is a f$@king depressing tale of married sex.
So, this time I threw a wrench into the situation. I walked into the front door and dropped trou, shucked my shorts, flung off the whole kit and kaboodle.
It was hot outside, I'm peri-menopausal, and I thought we should just have our date at home.
Henry was in the kitchen when I walked by, heading toward the thermostat to crank on the air conditioning. Just after he registered my state of undress I heard:
"Oh."
He emerged from the kitchen naked as Burt Reynolds in the Cosmo centerfold. Well, hello!
For the next three hours we turned off the phones, computers and our brains. We became reacquainted.
I couldn't remember how long it had been that we lay skin to skin for three hours and weren't asleep. Maybe never? Which, I realized, was a sad waste of time in this ever dwindling life.
Co-habitating makes us see each other the same way all the time.
Wife. Husband. Mother. Father. Provider. Homemaker. Cook. Suppository Inserter (just checking to see if you're awake).
I fantasize about men who don't fill any of those roles in my life. But Friday night Henry wasn't the guy who yells, "Supper!" at 5 o'clock, like John Boy on The Waltons (a total cock blocker), Henry was my fantasy.
I chose to see him as a hot piece of tail.
He's got a magnificent chest. Smells good. Has shapely legs and soft lips. His eyes are bluer than Sinatra's.
I realized there might be moms I know who have a little crush on him. I vowed to be more appreciative and remember what drew me to him in the first place.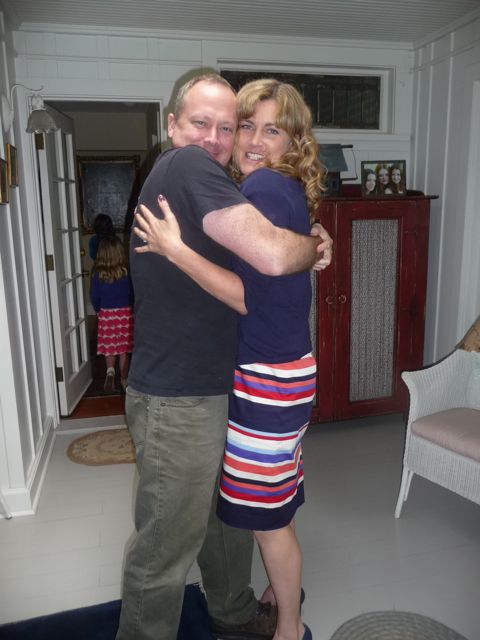 I can't speak for Henry, but the day following our home-date we touched each other more than usual and Bridget wailed in disgust, "Mommy and Daddy are making out," when we paused to share a kiss in a door frame.
We're back in our regular groove now.
Making the kids breakfast. Packing their lunches. Henry driving off in one direction and me in the other.
Marriage is a marathon and some people crap their pants before they can make it to the finish line, but it's a worthy endeavor.
I want to remember to stop, drink lots of fluids and stretch my limbs to finish the race strong. Kisses to you Henry. Hank. Hottie.
Tell me about the man you want who is already in your bed!