My mom lived in the bay area from the time I was 9 until I was 29. Here's what I've done there:
Poured a concrete slab with my stepdad Guido on Old Tunnel Road before the fire burned down his house in 1983.
Sat in my nightgown on the bowsprit of the 72-foot Allegro under full sail from Alameda to Sausalito as the lights came up on the city when I was 9.
Listened to Guido play the trumpet in a martini bar in the Tenderloin district while wooing my mom when I was 13.
Swam in the creek behind my mom's cabin in Larkspur the entire summer of 1976 with a Golden Retriever named Zygous.
Cycled with the Dykes on Bikes during the gay pride parade with my mother in 1989.
Got lost at sea when I was nine in a dinghy with my soon-to-be stepsister in the choppy bay whilst trying to row to Angel Island.
We were quickly rescued by a motorboat who pulled us back to the Allegro, but not before my step-sister inadvertently hit me in the head with an oar, knocking me briefly unconscious.
Hopped from boat to boat in the Angel Island inlet during Boat Day, eventually swimming to shore and feeding the tame deer by hand in 1975.
I thought I'd done it all. Until Henry and I arrived with the girls two days ago in S.F.
Here are the things to do in San Francisco I hadn't done during my twenty years in and out of the bay area.
1. Taking in the murals funded by the Public Works Commission during the Depression at Coit Tower.
I love all the bright colors and the resignation:
2. Visiting the Historic 1914 Carousel at Golden Gate Park.
I particularly loved riding the ostrich.
3. Visiting the deYoung Museum which currently has the Jean-Paul Gaultier Exhibit.
The animatronic mannequins were a trip. One of the was Gaultier talking to us himself and many of them seemed to have the face of Bernadette Peters
(Perhaps his muse? Besides Madonna and Lady Gaga, of course.)
4. Listening to former prisoners from Alcatraz whisper in my ear what it was really like to be incarcerated there. FAS-CIN-ATE-ING!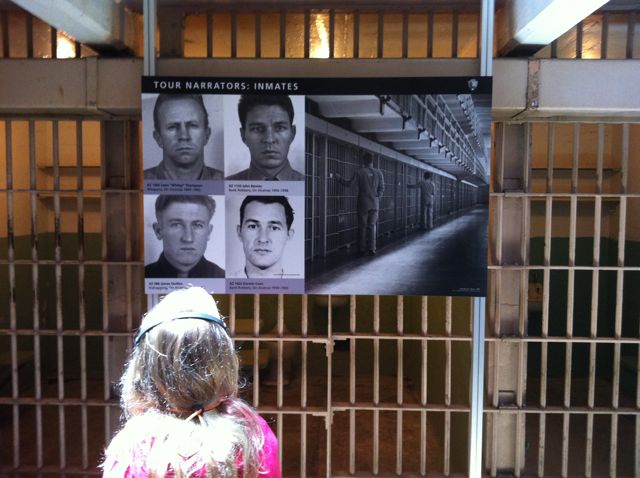 5. Tonight we go to City of Lights Bookstore and tomorrow we go home.