Our Tour Through London's West End Theater Productions
Warning: This post may incite annoyance as I was very spoiled and undeserving. Caveat in place.
My daughter Bridget and I just returned from a whirlwind, gorgeously-curated tour of London's West End theater productions vis a vis Upstage Theater Arts School. (this is not a sponsored post btw)
I'm compelled to review the trip, because I'm bubbling with inspiration.
I also need to effusively thank and praise the mildly intimidating, dashingly erudite Brit, Adrian Cohen and the girlishly exuberant, effortlessly charming Myra Maracine of Upstage for a once-in-a-lifetime experience.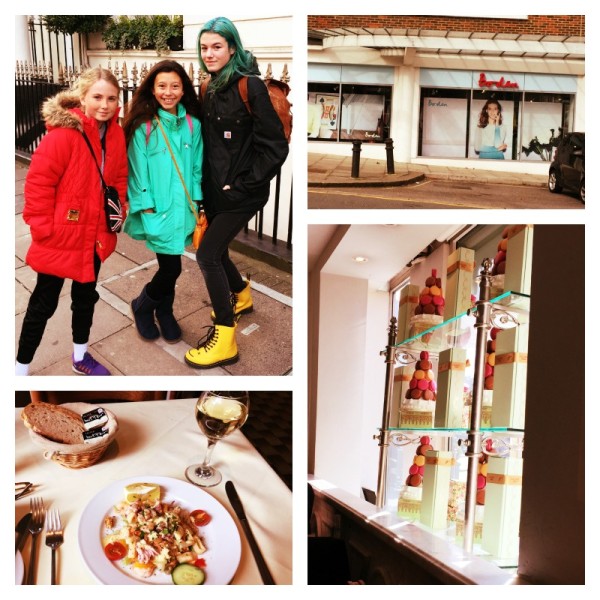 Our first show was the Sam Mendes directed, Charlie and the Chocolate Factory at the Drury Lane Theater.
While the plot is consistent with the Roald Dahl book, the music and lyrics are completely original, save for "Pure Imagination" at the finale.
I was dreading seeing the play, as I've seen both films and several productions, but this was completely fresh and original with a uniquely sly interpretation of Willy Wonka by veteran British actor, Alex Jennings.
Day Two was the Matthew Warchus helmed Matilda.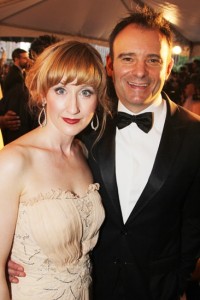 I've had the fortunate pleasure of meeting Matthew on several occasions, because his wife Lauren and I became fast friends when we met in Toronto, while our husband's were working there.
We both had very small children at the time and helped each other muddle through.
Lauren was nominated for a Tony last year for her portrayal of Miss Honey in Matilda on Broadway.
I was thrilled for both Matthew and Lauren when I saw this West End production at the Cambridge Theater.
Words cannot describe the fantastical set design, innovative staging and jaw-dropping talent of the child performers, ranging in age from 9 to 13.
Matilda has three rotating casts of children, due to labor laws in London, and I simply couldn't believe they found that many children at an adult level of professionalism and talent.
Bridget was a bit disgruntled, claiming she felt completely "under-accomplished" by comparison.
(It's her mother's fault for not letting her audition professionally, because I cruelly want her to have a normal childhood and not end up like la Lohan or Screech.)
Day Three we were off to a Jacobean play called, The Broken Heart by John Ford at the Sam Wannamaker Playhouse, adjacent to the Old Globe Theater.
Jacobean theater followed closely on the heels of Shakespearean Theater.
The language is equally challenging and the characters just as eager to kill others and/or themselves.
In fact, during one particularly gruesome scene, a lead character, who'd also provided comic relief, kills himself by slitting both wrists and allowing his life's blood to gush down two metal spears stuck into two copper bowls which fill with the red stuff almost six inches deep.
One theater goer had a brief fainting spell during that bit.
The Broken Heart was a tad more difficult for the kids to grasp, but the setting was astonishing.
The playhouse has a 3/4s thrust stage built to look exactly like theaters built in the mid-1500s to early- 1600s and the stage was entirely lit by candles, nothing more.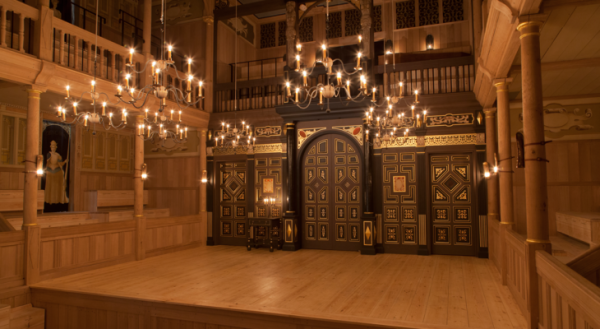 The costumes were gorgeous, the actors committed, the experience utterly unique.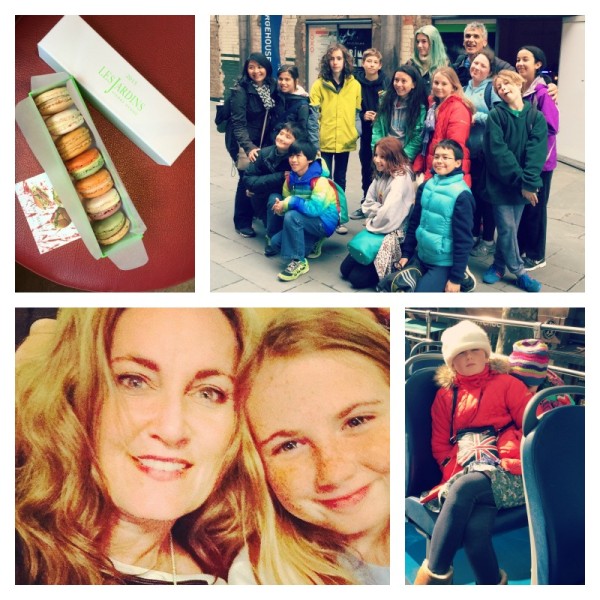 Next, we were off to see The Curious Incident of the Dog in the Night-time at the John Gielgud Theater.
Based on a mystery novel written by British author Mark Haddon.
And while Haddon says his book isn't specifically about autism or aspergers; the lead character is Christopher John Francis Boone, a 15-year-old boy who describes himself as "a mathematician with some behavioral difficulties."
Again, the innovative stage design took us inside the mind of savant-like Christopher, who becomes overwhelmed and frightened by all of the stimulation in the city and specifically on the London tube.
Stimulation that doesn't impact those of us with mainstream minds.
From the Gielgud we were off to dinner and then a second play, author Phillip Pullman's Grimm's Fairy Tales, at the Bargehouse warehouse at Oxo Towers Wharf.
Producer Val Coward has this to say about the production:
"We're transplanting Pullman's Grimm Tales into the raw, atmospheric rooms of the iconic Bargehouse.

"It's a real flesh-and-blood rendering; you're literally in the witch's cottage with Hansel & Gretel and you can really sense the magic and delight in the players and audience as each story unfolds.

"We're so excited to be bringing these tales to the South bank and everyone here will enjoy this, from kids and their grown-ups to the rest of us who enjoy a fantastic tale or two."
They call this type of production Promenade Theater, because the audience follows the cast from room-to-room to witness each new piece.
Inhabiting each new set was like immersion into a macabre dream.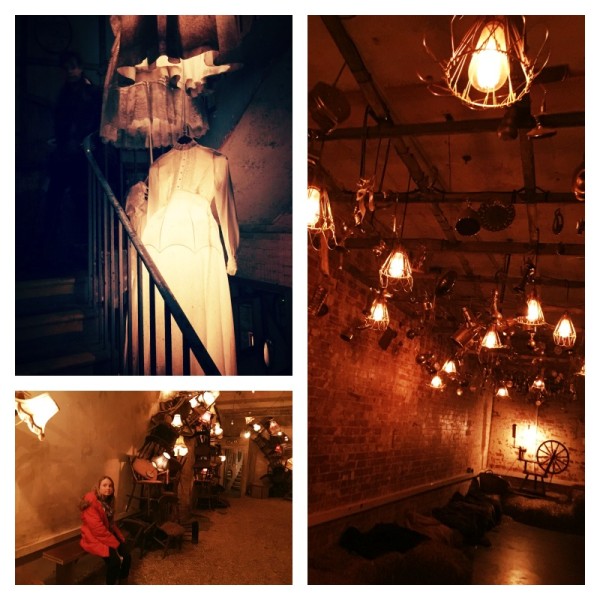 Our last day, with these five shows under our belts, and gallons of PG Tips black tea, we set off for Leavesden studios where the Harry Potter film series shot over a span of ten years.

Set adjacent to the working film studios where all eight Harry Potter films were made; the Studio Tour offered us the opportunity to explore two sound stages and a backlot filled with original sets, animatronic creatures and breathtaking special effects.
There were several films next to each display where the lead actors and production teams explained all of the behind-the-scenes magic.
Bridget and I vowed to go on a Harry Potter film binge once we got home.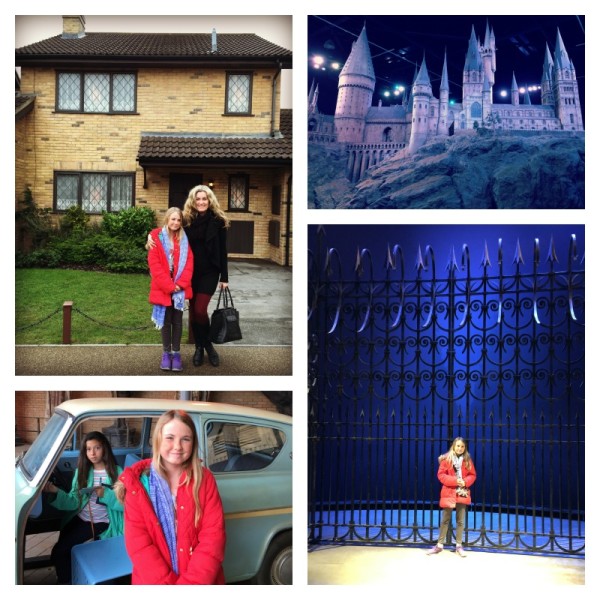 We also spent a great deal of time drinking butter beer and eating Bertie Bott's jelly beans trying to avoid the Vomit, Ear Wax, Dirt and Booger flavors.
Of course, for me the best part of trip was the company of a group of excellent parents who enjoyed a pint just as much as I do, and British tour guide/seasoned actor, Bill Ilkley, who curated the trip, intrepidly led thirteen children in, out and around the London Underground and forgave me for lobbing a slab of roasted beef into his lap at a Brazilian Chiaroscuro restaurant.
Thanks to all, and to all a good night!
WHAT DO YOU LOVE TO DO IN LONDON? INQUIRING MINDS WANT TO KNOW!