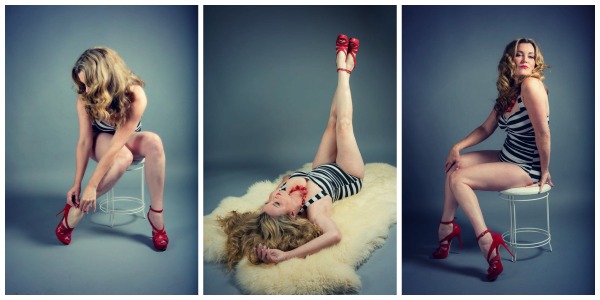 In a recent Today Style article Marisa Kabas writes:
"Last month, (e-retailer) ModCloth was the first company to sign onto the 'Truth in Advertising Heroes Pledge,' an outgrowth of the Truth in Advertising bill, which was introduced to Congress back in March.

"Advertisers who sign the pledge agree that they won't Photoshop their models, and if they do, an ad will include an annotation."
Being the itinerant e-shopper that I am I discovered ModCloth a couple of years ago and looovvved the fact that they use real people to model their clothes. (btw This is not a sponsored post).
Like the fabulous Dove Campaign, this brand is trying to bring healthy body image to the fore in advertising to help battle rampant body image issues.
To research the effects of advertising on we-regular-folk, Modcloth conducted a "Truth in Fashion" survey of 1,500 women, (which revealed) some startling statistics.
"A mere 13 percent of women agree that "real women" are accurately portrayed in the fashion industry.

"Nearly half of women (47 percent) feel excluded by the fashion industry. Among plus-size women, that statistic rises to nearly two-thirds (65 percent)."
That last breaks my heart. I love dressing and feeling pretty.
I find it sad that so many women feel excluded when it comes to finding garments that make them feel confident and beautiful.
Every body type can look delicious in the right clothes.
"62 percent think that the fashion industry is harmful to women's body image.

"ModCloth co-founder Susan Gregg Koger says the results are "not surprising, but disappointing."

"This is why we're taking a stand now," Koger told TODAY.com. "This is not a one-off campaign. This is actually something women will put their dollars behind."
As part of the Truth in Fashion movement, ModCloth also announced a call for (real people to model).
They held an open casting call in New York City on Wednesday, right before the kickoff of New York Fashion Week, and Koger estimates between 200 and 300 people came in to take their photo to be considered for a spotlight on the site.
Since signing the pledge in mid-August, Koger says the response has been incredible. "Customers have been saying, 'Thank you so much for doing this.'"
Feeling glamorous in a Modcloth fire-engine red frock at my 30th reunion.
According to Seth Matlins, a former ad man who was instrumental in the Truth in Advertising act, 10 more companies have made the pledge.
But it has yet to attract big players, like Gap, which recently came under fire for poor body image representation.
But Koger and co. are prepared to keep pushing the industry to do better.
"There's a diversity in fashion, there's a diversity in the customer base. There should actually be diversity in the ads as well."
This kind of news is so incredibly encouraging.
Especially for those of us raising daughters. Do you think advertising has adversely affected the way you see yourself??