I was sitting in my office (the bathroom) flipping through the latest Vanity Fair.
I was annoyed that Julia Roberts was on the cover — with legs as long as the Great Wall of China — sitting on the steel-hewn lap of that aphrodisiacal Idris Elba — (Julia's my new Gwyneth Paltrow object of jealousy) — when I flipped to this ad campaign for Saint Laurent Paris.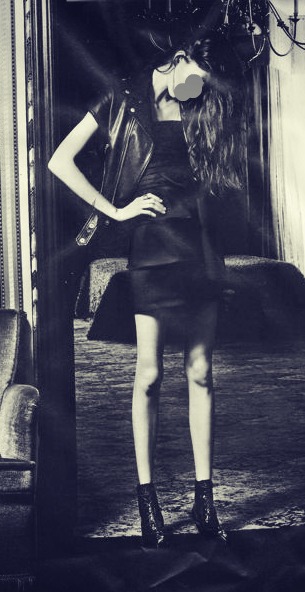 My first reaction was, what the hell?
My second reaction was worry for this young woman.
Because, to me, she looked malnourished and, as the mother of two daughters, I wanted to nourish her.
Am I crazy? Am I overreacting?
I think we've all become accustomed to seeing women whose bodies are simply animate hangers for clothing.
But even with my high tolerance for ultra-thin models, this one struck me as particularly cruel.
Cruel for the model, if she isn't naturally thin, but depriving herself.
And cruel to all of the young girls and women of a certain age who'll see it; some of whom will, through osmosis, begin to believe this is the beauty standard.
A standard they can never achieve, unless they're genetically part of a small group of women (less than 2% of all men and women in America, according to CNN) who are naturally this thin.
This means 98% of women would have to deprive themselves in order to achieve this look.
Also, many readers think I was being condescending when I wrote that I want to nourish this model, but the truth is, I actually am concerned for her health.
I've read far too many stories of models who have died, due to complications from anorexia nervosa, or who suffered silently for years while slowly starving themselves.
Hence, my petition is aimed at a business practice that fosters unhealthy working conditions.
I was inspired by a 16-year old girl who recently started a petition at change.org to get Seventeen Magazine to stop photoshopping their models. And she won!
My petition asks Yves Saint Laurent CEO, Francesca Bellettini, to stop using images of malnourished models, or models with dangerously low BMI in YSL ad campaigns.
You can CLICK ON THIS LINK to sign the petition and share your views on the subject of what I call advertising's "War On Women."
If this goes well, I'd really like to begin a movement to get all advertisers to use healthy women for their campaigns, one ad campaign at a time.
Please share this post if you have the time. It's important, and we can make a difference. Thank you in advance!
Here's some of the research, from respected sources, I read prior to starting this petition
This article, by super model Carrie Otis about her struggle with anorexia (and near death) is a must: Living With Anorexia.
Why Do Women Hate Their Bodies? By Psych Central.
Underweight Models Banned in Israel to Fight Anorexia. By The Daily Mail.
The Horror Behind the Glamor: Anorexic Model Reveals How Designers Kept Booking Her Despite Organ Failure. By Elite Daily.
Eating One Rice Cake a Day, Starvation and Self-Hatred: Crystal Renn & Other Models. By Radar Online
Share Eating Disorder Horrors. Pressure to be a Size Zero. Also by Radar Online.

Former Model: My Modeling Career Lasted 3 Years and as a Result, I've Had Anorexia for 8′, on Huffington Post.