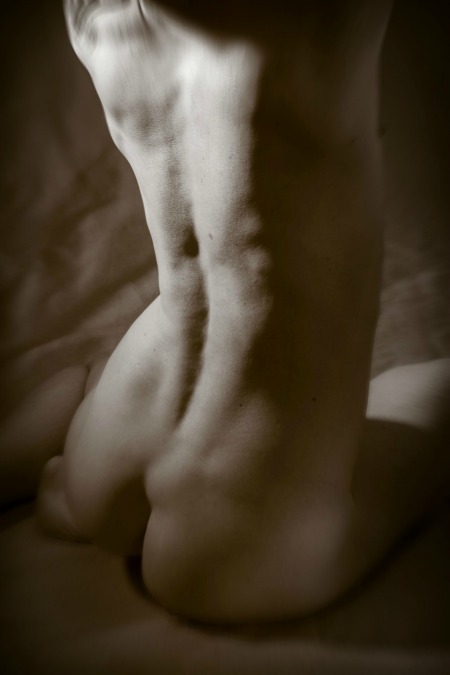 Healing Body Image Issues Through Fine Art Nudes (Beth)
Hello Beauties — I'm very excited to announce that photographer Beth Sanders, body coach Marlene Zaleznick and I are combining our super powers to create a positive body image project called, "Love Your Body Now."
The germination of this idea began two years ago when I was feeling disgruntled with my body.
After the birth of my two daughters and heading into peri-menopause, I weighed twenty pounds more than I did prior to becoming a mom.
I spent a great deal of time thinking about my stomach, to whom we'll refer as Gertrude.
I prognosticated about how wantonly she hung over the top of my now too-tight jeans.
The way she lay next to me when I slept on my side as if she were a small, incorrigible puppy.
In my 20s I'd had fine art nudes taken in order to see my body as it really was, not the way my critical eye (and an ex-boyfriend) saw it.
When the photos came back I hesitated to hope that what I saw before me was Beauty?
I ventured forth and showed my photos to just a few trusted friends.
They lavished my images with their approving gaze, so it was through the photos, and the kind, loving compliments, that I was able to love my body more, hence myself.
I believe how we feel about our bodies is ineluctably tied to how we feel about (and treat) ourselves in general.
So with Gertrude in tow, I decided to try the fine art nudes again, at 46. What the fucackta?
This time out it wasn't an immediate lovefest, but after I selected a few of the "better" shots, I showed them to my husband and my trusted friends. And then to everyone here.
The feedback was incredibly positive and I ultimately came to the same conclusion I'd come to in my 20s. Older, wiser, more to love. Still beautiful.
The experience was so positive I thought, "Why can't I do this for other women too?" Which is why I called Beth.
Beth's incredible photography runs the gamut from capturing life's big moments, wedding, engagement, the odd naughty boudoir to shooting subjects in her "Be" series, the tagline?
"What if an image of you as your Secret Self could help you recreate your lost dream?"
As Beth and I discussed how this project would unfold, I was startled when she unconsciously criticized her own body.
Beth's body is the kind I've always admired. Athletic, with lean, strong muscle. Yet here she was, finding fault, just like I'd done with my body?
She was particularly unsure of her breasts, having been in love with a man who told her he didn't think he could marry her because "the boob thing" was "holding him up."
He really wanted her to get a boob job. (He and my ex should date)
Fortunately, Beth didn't get a boob job and she absolutely didn't marry this joker. Bullet dodged.
It occurred to me that Beth should be the next subject in our fledgling body image issues project, and that she should take nudes of herself.
Without a moment's hesitation she agreed.
This is the email I received the following day:
"I shot myself today. Not much luck. I actually thought I looked ok until I saw the damn photos. 50-year-old loose skin. wtf? Anyway, I didn't like my lighting and my foot kept cramping up, so I am going to try again tomorrow."
The next day I received the photos Beth "kind of liked," which includes the photo above. It was my turn to say wtf, because for 50 or any age, Beth is stunning: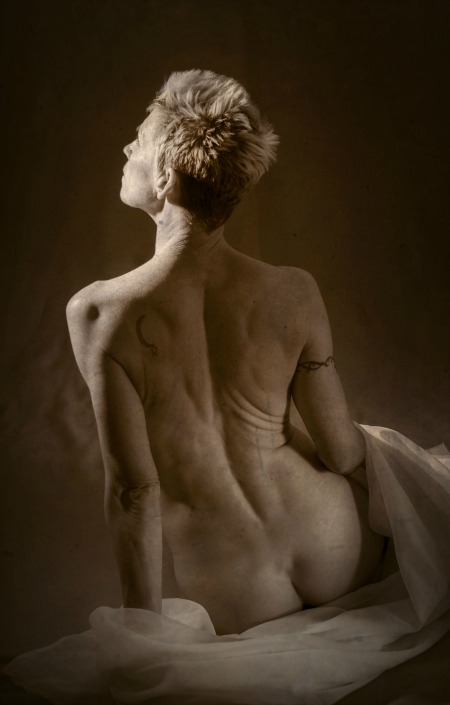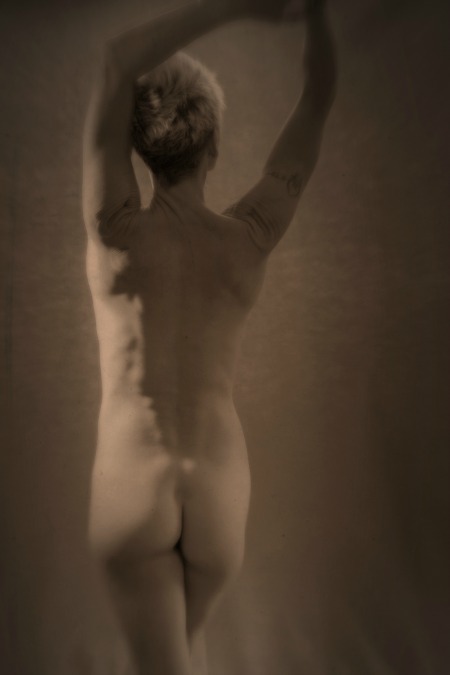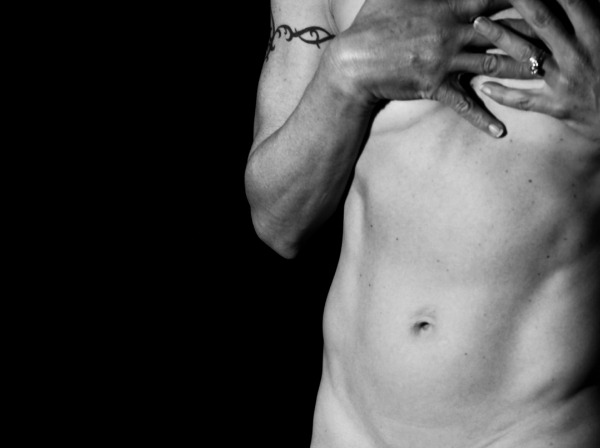 During our post-photo shoot interview, I asked Beth to tell me five beautiful things about her body:
"Well, I like my ribcage," she said.
"Your ribcage?" I queried, a bit stumped. "What do you like about your ribcage?"
"That it doesn't stick out further than my boobs."
Okay, we were not really batting one out of the self-love ballpark.
"What's the second thing you think is beautiful about your body?" I tried again.
"Well, I like my butt. Most of the time."
I'm not entirely sure which times Beth doesn't like her butt. Does it go out after kerfew and smoke cloves? What's up with that butt, because to my eyes it's pretty freakin' awesome.
"And my legs are a good feature."
At this point we were only on the third thing Beth finds beautiful about her body, and it felt like I was water boarding her to get her to say nice things about herself.
"Is that five yet?" she asked.
Sweet mother of God we women, I thought. Is it the constant onslaught of photo-shopped images of twelve-year-olds passed off as grown women that are causing us such self-doubt?
Is it the insidious and persistent sexual objectification of the female form in media and advertising that has us self-objectifying and feeling like we always come up short?
In answer to my own questions I found a recent article published in Psych Central titled, "Why Do Women Hate Their Bodies?" by Dr. Carolyn Coker Ross, MD.
Dr. Ross says that 80% of women in the U.S. are dissatisfied with their bodies. And this:
"Over time, models have gone from thin to emaciated, which has been mirrored by a growing problem of eating disorders and body image dissatisfaction.

In 1975, most models weighed 8 percent less than the average woman. Today they weigh 23 percent less.

Compared to the Playboy centerfolds and Miss America winners from the 1950s, at least one-quarter of present-day icons meet the weight criteria for anorexia."

"Herein lies the real damage. The more an individual is exposed to the media, the more he or she believes it is reflective of the real world.

What most people still don't realize, is that the majority of the pictures they see in magazines are altered in some way and that looking like their role models is physically impossible. It is a setup for self-hatred."
This is why I decided to try a different route with Beth.
Rather than forcing her to acknowledge the beauty in herself, I decided to do what my husband and friends had done for me.
"I'm going to tell you all the things I find beautiful about your body," I told Beth.
"Oh, okay." She sounded doubtful, as if I might be risking my life like James Phelps in Mission Impossible, having chosen to accept the assignment of sincerely complimenting her.
"First," I said, "I love the shape of your head. You have a perfectly shaped head and your close-cropped haircut complements it perfectly."
"Oh," Beth said. Her voice had become quiet, still, soft and listening.
"I think you have beautiful, broad shoulder and incredible musculature in your back."
"Marry me," Beth said with a chuckle. But again I sensed her vulnerability. Her slight discomfort with accepting compliments.
"Also, the skin on your bottom and thighs looks soft, translucent and smooth as porcelain. You also have a perfect butt."
She immediately explained that she's never had cellulite, because she's always been an athlete.
But it seemed that, rather than embracing the compliment, she felt she had to apologize a little for her perfect tush.
And these are the things I forgot to mention during our interview.
Beth, are you reading this? Are you listening? Please type this up, frame it and put it in your boudoir.
I envy your flat, hard belly. Gertrude saw this photo and was quite put out. She immediately had to have some chocolate and a few canapes.
I am ignoring Gertrude and am telling you that you should wear nothing but bikinis and a smile.
And now for your breasts. I know you said you thoroughly dislike your nipples, because they are bent in half from "86 years of nursing" and that you cross your arms over your chest to hide your flatness when "buff, hot manly men" pass by in the gym.
Here's what I think.
I saw your nipples, which I'm not posting here, because we need to remain PG-13, and they look absolutely awake and ready to dance.
As for the rest of your breasts, they're perfect for your long, lean, athletic body. You can run your marathons without them bouncing up into your face and weighing you down.
You can also wear those plunging necklines sans bra like Amy Adams in American Hustle and they will remain pert, friendly and sexy.
And there is one word I love so much that seems to succinctly describe your entire physique. Gamine.
Dictionary Definition of Gamine:
"A slim, often boyish, elegant, wide-eyed young woman who is, or is perceived to be, mischievous, teasing or sexually appealing."
Now, kind readers, it is our job to tell Beth the Beauty we see in these photos and to leave loving, supportive comments so that she can see what we see.
And Love Her Body Now.
If you live in the Boulder, Colorado area and wish to participate in this project please contact me or Beth on her website.