I always think my kids will like the things I like.
I was a water baby. I lived in the ocean as a kid visiting my grandma-Santa-Barbara every summer.
I loved camping. The mildewy smell of a tent in the early morning mist; the catching, skinning, gutting, cooking and eating of Blue Gill out of Lake Cachuma.
It thrilled me to let all the air out of my lungs and sink to the floor of our swimming pool, where I could hold my breath longer than my older stepbrothers could.
I liked chasing boys, pinning them to the ground and kissing them during second grade recess, but had to give it up after the principal talked to my parents.
I adored sitting on the bow-sprit of my mom and second-stepdad's 35-foot Catch, sailing into the San Francisco Bay as the lights came on in the city.
I always think it's sad my kids aren't garnering these same memories.
Sometimes, I try to get them to like what I like, to make the same memories — like the time I forced Clare to come out into the ocean with me to catch a ride on a boogie board back to shore.
Boy, was she ticked off.
I worry my kids aren't outside enough, and that maybe I should be more comfortable being a free-range mom.
But, living right smack dab in the middle of Los Angeles, I just don't feel good cutting them loose on the bikes for the day.
Too many speeding cars, too many strangers passing through.
The other day, as I was feeling inadequate about the way my kids are spending their summer, I came across this at 3 p.m.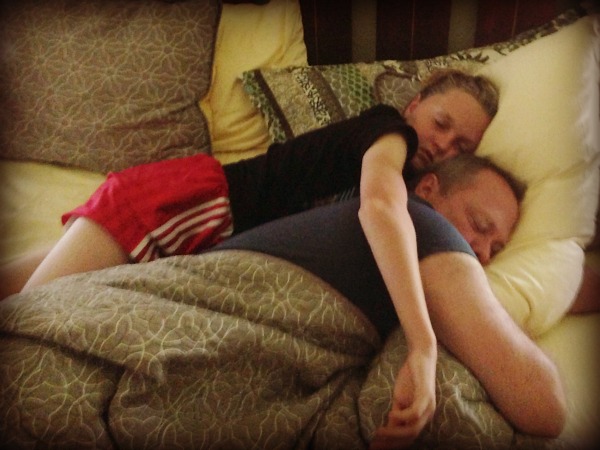 Looking at this photo of Clare and her daddy, one word came to mind: "Summer."
In all of its lassitude, relaxation and free time.
My kids aren't me, and that's okay. They have their own likes, their own rituals and they are recording all of their own memories, which may be just as magical and wondrous as mine. xo