These are the things I've done recently that made me want to vomit while pooping water.
(Yes. You can take that line and use it as your own.)
1. Wrote a book detailing my slatternly (Merriam-Webster: "Of, relating to, or characteristic of a slut") years on the fringes of Hollywood celebrity.
2. Wrote query letters to New York book agents.
Let me just check my Query Tracker to see how many rejections I've had so far … oh yes, there it is … 37.9% rejections, 62.1% have not replied yet.
Apparently, none of these agents quite realize the import of my tome. I imagine their slack jaws and glazed eyes as I accept my Pultizer … or a card from my kids telling me how great my book is, which is why they want to emulate my life, after which I drown myself in Schnapps.
3. Got onstage with a bunch of other mamas to perform my piece Walk The Walk, Naked Lady.
My body completely rebelled. There were digestive issues I won't detail (as I suspect I'm already over my irritable bowel limit for this post), cotton mouth issues (I looked like Katie Couric in a wind tunnel) …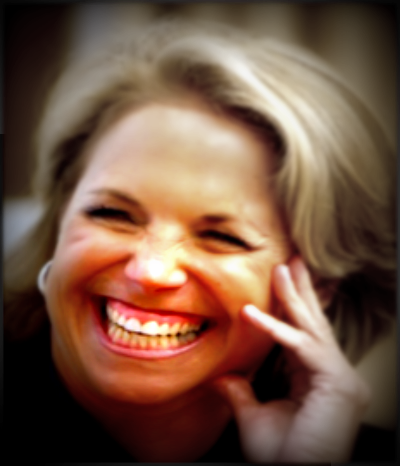 … and one instance of vertigo.
When I came to, my fellow actresses were feeding me pinot grigio from a funnel backstage. Man, I love those homegirls.
4. Cooked Mother's Day brunch for 14 people without getting drunk and dancing with my underwear on my head.
5. Took a meeting with Hollywood producers I vehemently admire and was able to communicate without being as obsequious as Arsenio Hall interviewing Robert DeNiro ("You lookin' at me? Well, I don't see anybody else here!")
6. Made the first step toward repairing a friendship that had gone off the tracks.
THE MONTH TO DO THE THINGS THAT SCARE THE BEJESUS OUT OF YOU!
Because you will survive and thrive and realize (notice the rhythm in those verbs?) you're capable of just about anything.
I'd love to know what you would do if you weren't scared …