We awoke at the crack of a gnat's ass this morning.
Stumbled about preparing to depart on the first leg of our South African safari, which is a flight to New York and a sleepover there.
Yesterday, it seemed vital that I be as camera-ready as possible for our trip by having my face waxed. Which I'd never done before.
Inexplicable, I know. Perhaps, evolutionarily I determined the smoothness of my flesh would scare away malarial mosquitos that might have been tempted to nest in my lady-stache?
I submitted my hirsute self to the ministrations of Tuan, my Korean waxologist.
She approached my face the way the SWAT team approached the compound in Waco, Texas, ready to burn my follicles out if necessary.
Several minutes later, when the wax and paper supplies were exhausted and Tuan showed me the phalanx of peach-fuzz casualties on her waxing papers, my face looked like Hilary from Love It or List It had it sanded by her construction biceps-traordinary foreman, Eddie Richardson. Or like it snogged Satan.
But things are looking up. There are fourteen of us on this journey; me and two other bloggers:
Jamie of I Am Not The Babysitter (the instigator)
Elise from Elise's Ramblings (my fellow Jamie-minion)
Eleven civilians (Our families)
Jamie's lovely mother-in-law, Kristen, bequeathed me with two Beverage Vouchers that expired at 1:00 p.m., which is why I quaffed a lovely United airlines Pinot Grigio in seat 19B at 10:30 this the morning en route to New York.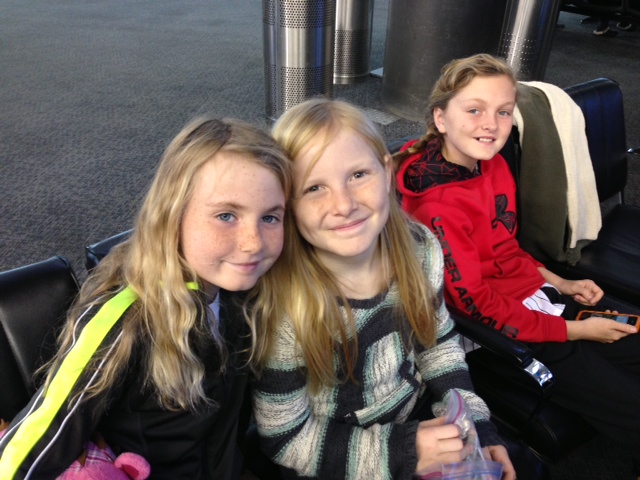 One should never waste a Drink Voucher. You may quote me on that.
We arrived in one piece in New YorkCity about five o' clock this afternoon. Very quickly, I realized that fourteen people with rolling suitcases were an imminent threat to un-sprained ankles everywhere.
We actually knocked an elderly woman over as we attempted exiting the Air Bus en masse. We have to get our rolling suitcase moves choreographed stat.
While my too-good-for-me husband frolics in the airport hotel swimming pool with my girls, I'm off on a rogue mission into Manhattan to find that badass Lena Dunham.
When I find her (and I will, *deranged cackle) I am going to hug her for being naked almost the entire Patrick Wilson (yum) episode of Girls.
She is forcing me to love my delicate, soft muffin. Because soft can be sweet and inviting, especially when coupled with wit. Thank you, Lena.
More from the exhaustive fourteen-hour flight to Johannesburg tomorrow. Perhaps I'll wax Henry while he sleeps. Rrrrrip!
And thank you to DSA (Destinations South Africa) for arranging our trip and the More Quarters Hotels for setting us up in luxury! We will wax you anywhere you like upon our return.