Hello, South Africa!
After a six-hour flight from Los Angles to New York, and a fourteen-hour flight from New York to Johannesburg, the eagles have landed!
Three mom bloggers, five kids, two mothers-in-law, one father-in-law and three husbands. Over the course of our journey, we suffered collectively from sciatica, allergies, air-sickness, vertigo, dry retinas and alcoholism.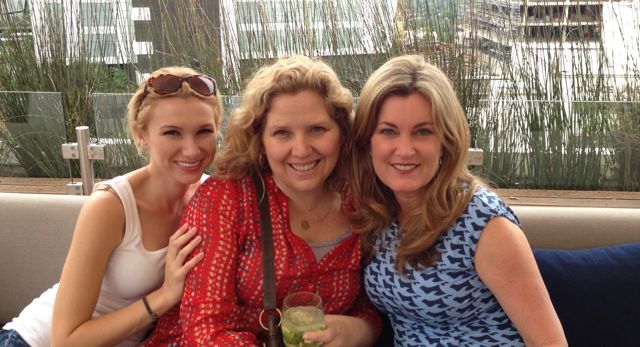 But we were greeted at the airport by the lovely Gloria sent to us vis-a-vis Destinations South Africa, who shepherded the fourteen of us to a lovely coach that drove us directly to the Sandton Sun International Hotel where we fell face first into soft, horizontal beds.
After our recuperative snoring, moaning, thrashing and restless leg syndrome, we all dined al fresco on the Sandton Sun patio next to the cerulean pool, while a really cool dude jazzed it up on his saxophone.
Within moments I stumbled upon the Sandton City Shopping Center that feeds directly into the hotel and, much like the wife of a captain christening his ship, I purchased something.
Now, I'm off to bed to awake in the morning for the excursion to our first safari lodge.
I have never been one to take a scheduled tour on vacation.
I like to plan everything myself to be open to spontaneity and whimsy, but I must say I'm grateful to Terry Von G from DSA for choreographing this trip for our group.
He scheduled all of our flights, our coaches and our day trips. I can be on auto-pilot and not try to control thirteen other people with my bitch-on-wheels machinations.
There is nothing for me to do. All the decisions have been made and I find, in a way I never could have predicted, that it's a fantastic relief.
I cannot be blamed. Only Terry can. But so far he's exceeded my expectations. Tomorrow night photos from the lodge. xo S
This post is partially sponsored by Destinations South Africa and the More Hotels. We couldn't have done it without them.