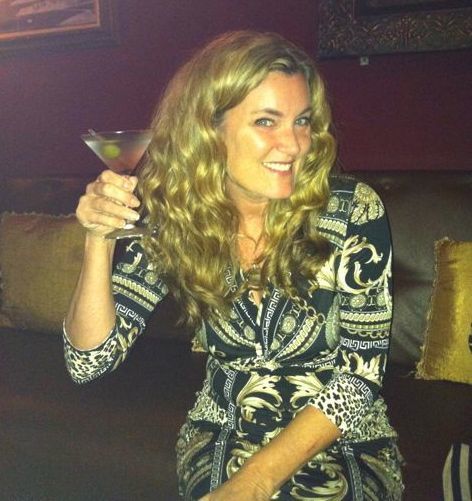 I've been content for three days in a row.
Well, I had one little shard of jealousy poke me.
As I watched Girls last night and Lena Dunham, as Hannah, went on a coke binge so she'd have something to write about —
(which I can't do, because I'm too old to become a drug addict. I missed that boat.)
— and she ended up switching shirts with a guy in a dance club, then spent the remainder of the episode wearing nothing but a yellow mesh shirt that looked terrible on her, I thought:
This woman is at the apex of her greatness and is completely fearless as an actor and I wish I had her balls.
But other than that I've been, well, happy.
Which isn't so great when you're writing a blog. Because my work's always better if I have a little mishegoss going on (which, even as a shiksa, I can still manage to drum up).
In an aberrant maneuver here are five things I love today:
1. My husband's new body wash.
It makes me want to bite him and also makes me proud of him, because when we started dating April 24th, 1998 — which I remember because it took him two years and two months to propose and I was worried my ovaries had shriveled into Sunmaid raisins — he wouldn't even wear deodorant.
He worried it would give him brain cancer and he smelled … in a word … ripe.
2. My daughter's mild fever
Because she doesn't feel too terrible, but she does feel terrible enough that she wants to sleep in my bed and is too weak to stop me from cuddling her, which I know is reckless on my part but you only live once.
3. My other daughter's buoyant, chirpy mood.
Bridget has been so happy for the last three days that it's almost annoying.
If she weren't eight I'd be ransacking her room looking for drugs. That kid just has, as John Stossel would likely confirm, a chemically happy brain and I'm so grateful for it.
4. Naomi Wolf's book,Vagina: A New Biography.
Wolf's book has gotten some flack from feminist quarters, since she writes about the vagina's dependence on the penis to be happy, (she qualifies this by saying lesbian sex needs its own book).
But, I think this book is a reclamation of some of the femininity my brave women's rights forebears had to eschew to advance female equality.
I plan to blog chapter-by-chapter my takeaways from Wolf's comprehensive, personal opus that attempts to restore the sacredness of the vagina to women individually and to our mysogynist culture at large.

5. All my clothes fit.
I've gotten rid of all my low-rise jeans. What liberation I felt as I dropped my jeans off at a high school fund raiser because only 16-year olds should wear low-rise jeans and if I were their mother I wouldn't let them.
All my pants now come all the way up to my belly button, as do all of my underwear.
The loose tummy flesh, from having two cesareans and six chocolate bars, is now safely encased in nylon-polyester.
In the low-rise jeans, my loose tummy flesh felt like it was completely naked, center-stage in a junior high school production of Gypsy Rose Lee.
My sixth thing I love today would be hearing about the five things you love. xo S