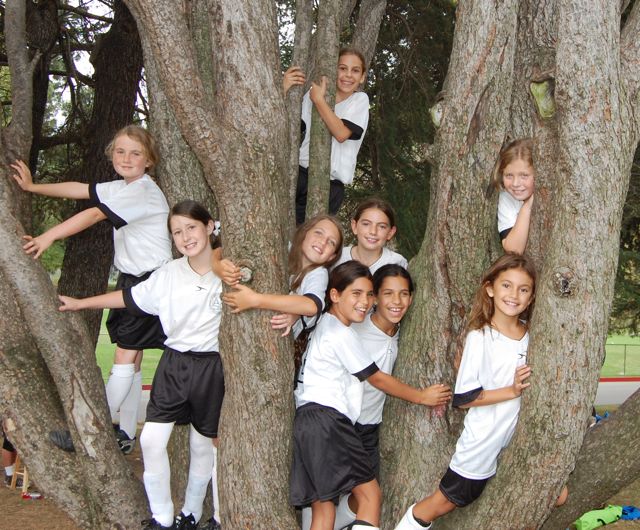 I fancy myself a bit of an athlete.
There was that time I beat my dad in a 10K even though I walked part of it.
(Dad, you could throw a baseball 100 mph through the eye of a needle, but you were not … well … fleet of foot).
There was that pristine moment my sophomore year of high school where I made the Varsity volleyball team and could ace serves.
(Until my junior year, when some rogue bit of psychological neurosis made it impossible for me to serve over the net. I would like to say it's because I grew breasts that threw me off kilter. Unfortunately, that was not the case.)
There was the freakish way I could could beat everyone in an arm wrestle, except for Steve Bast and Todd Shermer in the 6th grade.
(Todd and Steve, I let you win, I wanted no affront to your masculinity. Plus, I was boy crazy and you were both cute.)
So, imagine my surprise when I decided to participate in an impromptu scrimmage with Bridget's Girls Under 10 soccer team at practice last night and discovered that I suck.
In my defense, the field was muddier than a wrestling match between Shanna Moakler and Octomom at Lucha VaVoom and I wasn't wearing cleats.
But, each time I tried to pivot like the agile warrior I am, only my mind pivoted.
My body pretty much stayed in the same exact location.
Despite my suckery, I had a blast just running around with a bunch of little bloodthirsty girls.
When adults join them, everything gets very Lord Of The Flies. They just desperately want to knock our blocks off and I find that life affirming.
I did manage to dodge a few balls to the head, so that was good.
Today was Bridget's last soccer game of the season and they lost. They lost a lot. They tied a few. And they won two, or three?
But the games were mighty battles and they left the field a Band of Sisters while all we parents wept and bled and shrieked ourselves raw on the sidelines.
There are days the picking up, and dropping off, and tying cleats, and feeding mouths, and remembering shin guards, and bringing orange slices, and girding the child up after a bitter defeat gives me the Life-Is-Mundane whirlies.
But, I wouldn't miss it for the world.