My family and I are going to Africa in February, which I won't believe until I land.
In August of 2000, I had the incredible good fortune to work on a D movie (sorry Alyssa Milano – you were great, but Sean Patrick Flannery was a bit wooden, don't you think?) in Cape Town, South Africa.
I was the fifth on-set writer to attempt scribing the straight-to-video film Diamond Hunters, adapted from that literary classic no one's ever heard of called … Diamond Hunters!
My job included various location shoots and adventures.
The following photos just have me in them, because my driver and I were both single females taking photos of each other. I know. It's a little sad:
mount-nelson-cape-town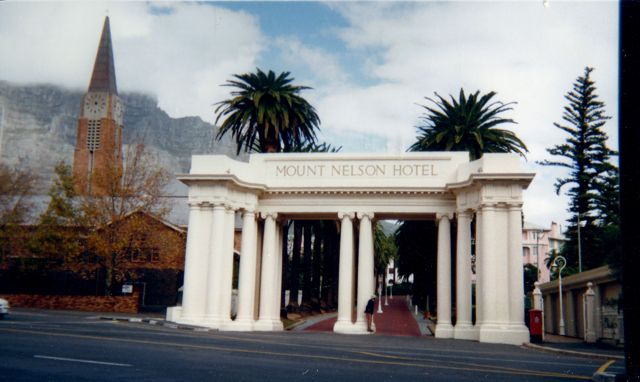 I can't believe it's been twelve years since I've been to Africa. I often have vivid dreams of being there and hate waking up.
So, I was a little startled when my dear friend Jamie of I'm Not The Babysitter asked if I'd be interested in joining her significantly comped MORE HOTELS South Africa family trip.
Family trip. Which means … bringing my kids … and their needs … for a long plane ride -vs- Unforgettable Vacation that will insure they won't blame us for anything once they inevitably go to therapy.
I weighed all options in both hands then talked to Destinations South Africa President Terry von Guilleaume, who has planned our itinerary and is bringing his wife and three kids to travel with our group, and I thought, Don't be such a pussy! Meaning a big cat. They're notorious cowards.
So we're going for it.
We're staying HERE and HERE and HERE.
DSA recently sponsored PBS Travel 4 Kids on a 7-week tour of South Africa, Zambia, Botswana and Mauritius; which will air next year in June.
So, I'll keep you all posted about what we're doing to prepare for our trip and will keep a travelogue throughout our journey so you can decide whether it's something for you.
Full Disclosure: Our trip will be discounted by DSA, but all opinions are my own. And I have a lot of them. You may have noticed.
Are you dreaming of Africa?