Puberty is coming to my house.
I have a fifth grader and the puberty video's at the end of the year. But already things are happening.
I'm going to have to go to the training bra section of the neighborhood Macys. I should probably invest in the Kotex First Time Period Kit. I remember when I got my First Time Period Kit circa 1976…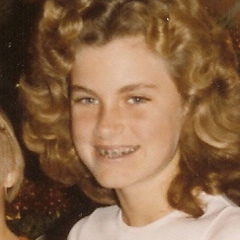 My kit sat on the uppermost shelf in my bedroom closet like a debutante waiting for her coming-out ball.
Sometimes, I locked my bedroom door, climbed up on my desk chair and took the kit down, placing it on the center of my Holly Hobbie bedspread.
Inside were objects that looked like relics from the Spanish Inquisition.
Sharp clips, pins and pulleys.
One Kotex Maxi pad the size of a Cuban life raft for those heavier flow days.
An assortment of tampons for those girls who would grow up to be Women of Loose Morals.
It was the summer of my twelfth year when I succumbed to womanhood. It happened ingloriously during my annual camping trip to Lake Cachuma with my grandparents.
I sat poolside with a pad the size of a Boeing 747 strapped between my thighs as my male cousins frolicked winsomely in the Lake Cachuma 58 degree un-chlorinated pool.
If only they'd contracted tuberculosis!
I frequently snuck off with my feminine protection supplies to the public bathroom in front of the entire San Juan Boy's Detention Facility camped just opposite our site.
One of the boys looked like Matt Dillon in Little Darlings.
Cramps paralyzed me as my trail horse Champion broke into a jouncing trot down the Rancho Oso wash. Sweet Mother of God, the indignities!
Then the unimaginable happened. The very next month I got my period. Again!
I cornered my mother in the laundry room. "What's happening? Why am I having another period? This is madness!"
"Honey," she said, in the resigned tone reserved for women during the Great Depression, "You'll get your period. Every month. For the rest of your life. Well, at least until menopause."
"What? Nooooooo!" I shrieked. "Why do women have to menstruate? It's not fair! What do men get?"
"Well," said my thrice married mother, "hopefully prostate cancer."
And now as I finally dash headlong toward menopause, I'll have to hand off the furry, sweaty, mucky, achey, ripe-with-possibility baton of fertility to my firstborn.
I'm sorry, sweet girl. Being a woman can be a bitch!