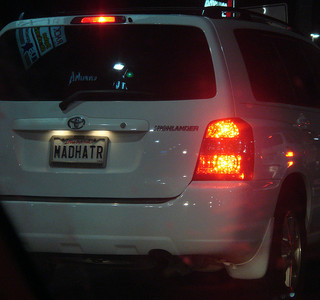 There has been some fuckery afoot.
Henry walked outside yesterday to get into our 10-year old Toyota Highlander only to wonder, "Dude, where's my car?"
It had vanished without a trace.
Apparently it didn't even put up a fight, there were no signs of struggle.
No shattered glass, no oil stains, no tire marks indicating resistance.
For all we know our Toyota was a trollop who went off with the first bad boy she met. She's probably muling cocaine across the border from Guadalajara by now while two coyotes throw Molotov cocktails from the cargo hold.
Inside the Toyota was all the softball equipment for the Lightning Strikers Little League team; catcher's mask and gear, 15 baseball bats, gloves, balls, and Clare's lefty baseball mitt.
Henry also left his iPad and iPod inside the car.
Gone too are the memories of one libidinous rendezvous in the passenger seat circa 2002. Sigh.
Here is what I wanted to say to Henry:
1. How could you leave the doors unlocked with a valet key in the car?
2. How could you leave a bunch of bags and equipment in sight?
3. Don't think I'm going to let you drive my minivan! Maybe if you slip Bridget a fiver she'll let you use her razor scooter!
4. A manly man would never allow anyone to steal his stuff. You need round up a posse and track these bastards down. What do you mean your Ipad tracker app wasn't enabled?!
5. I am better than you because my car wasn't stolen. Oh I'm going to Lord this over you.
But I didn't.
Because I realized that I actually love my husband. Huh. It would feel so good to be superior and bitchy.
I could let off a lot of the frustration that my AG jeans won't button that way. Emasculation can be heady.
But maybe I want to be a better person than that … or do I? Hmmm. Crap. He's such a good guy. He coaches my kids' softball team, which plays, like, 6 times a week, to name just one thing.
I decided to be Zen.
The first requirement of Zen is to not speak. I said nothing. I hugged him. I kissed him. I patted him. I held him. Then, I spoke, 'This really sucks, I'm so sorry."
It wasn't much fun. I didn't get any self-righteous high. But maybe …. Henry will get a new car (and I'll steal it from him – mwahahahahaha! Now that's the zen of having your car stolen!)
What kind of sedan would you suggest?
Something grown-up, slightly classy, easy to maintain, that vibrates cellulite off your thighs while you drive. Or just vibrates. (Sorry, still reading Fifty Shades of Grey).