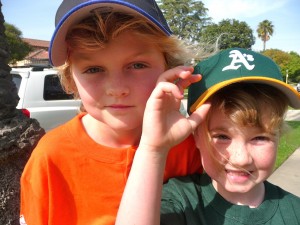 "Wow, your daughter's got quite an arm!" says a dad sitting next to me at Little League softball tryouts.
"Oh I don't know … I guess maybe she did inherit her grandfather's eye-hand-coordination. He won the 1952 Little League World Series as a shut-out pitcher."
"But I don't care how well Clare does … I just want her to have fun. There's nothing worse than these crazy sports parents traumatizing their kids for the rest of their lives," I respond.
"You're not kidding. Those parents need to get a life!"
"Living vicariously through their kids. It's so sad," I sigh.
"You got that right."
Clare steps up to the plate to bat.
"Wow," says the dad, "She's a southpaw!"
"Actually she's a switch-hitter," I inform him.
"She can hit from either side?"
"Without batting an eyelash. She's a natural. Just born that way. Not that it matters. I just want Clare to learn the importance of teamwork."
Strike one. Strike two. Strike three.
Clare's out. I shift in my seat. Blinks rapidly.
"She's just come off a bout of stomach flu," I say. "Puking messes with the equilibrium. The gastric juices cause vertigo."
"Yeah. Sure, sure."
"Because last week she was hitting nothing but triples in our backyard."
"Uh huh."
"She hit one ball so hard the stitches burst. She knocked out a street light six stories up. Not that it matters. I just want Clare to learn about work ethic."
"Of course."
A coach on the field pulls out his stopwatch.
"Okay Clare, let's see how fast you can run from home to first base."
"Clare's got pretty good quick-twitch muscles," I tell the dad, "For a girl her age. I'm sure there're other girls as fast as her. Though it's unlikely. Maybe some of the older girls. Not that it matters. It's good to have something to strive for."
The coach yells, "Ready, set, go!"
Clare bolts. Her feet … seem to be … moving through molasses.
The sun goes down, then comes up again, the seasons change, man becomes extinct as the oceans rise to cover the earth in a new millennium and Clare is still running to first base.
I leap from the bench, "Clare! You're supposed to run as fast as you can! Run! Run like a motherf$#@%errrrrrrrr!"
Clare skids to a stop with the furtive look of harried prey. Crickets chirp. All eyes on me.
"Not that it matters, sweetheart. Just have fun!"