Loss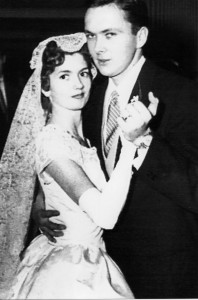 My father-in-law passed away Sunday night.
He'd been a young stage actor in New York. He'd been one of the original writers on Captain Kangaroo.
He'd won a television Emmy for his work on Barney Miller and worked on several hit sitcoms throughout the 80s and 90s.
He was a provocative artist. My favorite piece of his portrays a wealthy family in front of their McMansion with the dead-eyed matriarch in the foreground holding a tiny dog wearing a sheer blouse, her entitled nipples and middle finger sending us a message.
I loved seeing people's reactions when they looked away from my father-in-law's kindly, cherubic face to his in-your-face paintings.
He was a master woodworker, grilled cheese sandwich cooker, player-piano singer, Fred-the-Dog overfeeder, coffee-for-Granny butler, color-with-grandkids cohort and "May I?" card champion.
But what he did best was inspire love.
All four of his children and his beloved wife of 55 years were by his side for the three days before he passed. I was fortunate enough to be with them for a period of time and the love in that room was palpable.
Family can be complicated. People make mistakes, but whatever complications or mistakes my father-in-law may have made over those 55 years, they were nothing compared to the love he created.
My husband has his dad's sparkling blue eyes, shy nose, wry, sometimes mischievous smile and best of all his loving heart.
I think my daughter, Bridget summed it up best when she wrote this note to Pop Pop after he passed:
"I can barely believe how nice you are! I bet all of the angels will love you."