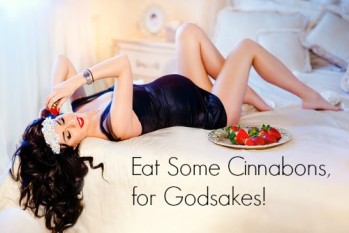 Gestation: 17 Weeks, 6 Days
I was having a peaceful moment en toilette — belly bumping up against ballooning breasts, thumbing through a catalogue geared sadistically toward mothers — when I turned the page from the baby super-pajamas (that can feed, burp, diaper, swaddle and protect your baby from child snatchers and nuclear holocaust) to the page with the sexy pregnancy tops.
The "pregnant" woman modeling the tops was a coltish five-foot ten, weighing in at a heroin chic one hundred-twenty pounds.
She wore a tiny black Lycra top that plunged between her pneumatic breasts and embraced her discretely rounded belly while demonstrating she still had a waistline above it and no gluteal globes to speak of below it.
Ahh, the myth of the sexually alluring Madonna.
I imagine this "pregnant" traitor-ess sweetly tucking in her other two kids (both with golden ringlets and crustless noses) then joining her husband, who bears a passing resemblance to George Clooney, for hours of connubial bliss in the sack.
This woman doesn't get up to pee ten times a night because the baby's pressing on her bladder or blast her husband across the bedroom with a bout of gas.
This woman doesn't have mood swings or nipple hairs or stretch marks.
I know this woman simply can't exist in the real world; that she's a model who eats cigarettes for breakfast, lunch, dinner and, in my case, second dinner.
That her photo has been air-brushed to within an inch of her porcelain veneers and her aureoles darkened by Paintbrush.
That she wears a fake belly pad. And is actually fourteen.
And don't even get me started on the "postpartum" models in the catalogue "nursing" their "babies" through the slits in their sexy, scalloped nursing tops with bellies as flat as Kansas.
When I was six weeks post-prtum with Clare the friend of my friend's philandering husband asked when my baby was due. I should mention I was holding Clare in my arms at the time.
Somebody's got to put a stop to the insidious advertising media. (Oprah? Ellen? He-Who-Must-Not-Be-Named?)
Because it just makes me feel depressed and full of self-loathing.
All I see are beautiful people doing fabulous things then I compare my ordinary life to their imaginary ones.
Shouldn't I be a slim, tan pregnant woman forever yachting the azure waters of Capri with my husband George? (I mean Henry).
Yes, I should.
Instead, I'm going to take a nap with my sweaty toddler and hope that lying supine on my left side will alleviate my irritable bowel.