Do You Love An Asshat? How to Quit Him/Her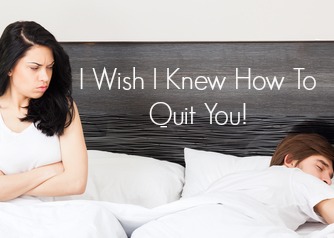 Hello there my favorite people. I'm starting something new and hopefully helpful and cool.
Because my post, "10 Signs You Might be Dating an Asshat and 5 Ways to Avoid Them" (aka signs of an abusive relationship) has been, by far and away, one of my most shared blogs I've decided to start an Asshat Recovery Program for readers who are out in the dating war theater.
Since publishing this post I've had emails and social media messages from readers who literally made a decision to change their lives after reading this post, which both surprised and gratified me.
I always think I'm the only person who's been an absolute catastrophic Asshat lover.
In fact, I was so good at picking and putting up with two innovative Asshats, who shall henceforth be referred to as Mr. Cruelly Handsome and The Greek God, that I'm in the process of writing a book about how I finally stopped doing that codswallop and actually ended up marrying and making a beautiful family with a blue-eyed, broad-shouldered beau whose intellectual prowess is matched only by his good heart. (My patient Henry)
We've been married fourteen years. Our marriage isn't perfect, there's been chubbiness, gassiness, bossy children, money worries, sickness, health, (along with joy, passion, affection and love) but no Asshattery.
Life can be tricky enough, do we really need to marry tricky?
So to be the first person to read (and hopefully benefit from) my latest post "Are You Catnip For Asshats" please opt-in to my How To Avoid Asshats And Find Real Love newsletter below. The post will automatically be sent to your inbox and is just the first in my Asshat Recovery program. 
(If you have an aol or yahoo email address you may not get the post delivered to your inbox. MailChimp apparently has a thing against aol and yahoo. So just email me at shannoncolleary@aol.com after you've signed up and I'll send the post directly to you!)

---
---