(This article about my time with Syrian refugees was first published in Huffington Post Impact.)

With the San Bernardino tragedy unfolding on our television screens and fear of Muslims, hence refugees, at DefCon 5, I felt I had to share my recent experience volunteering in Syrian refugee camps as a journalist, but more importantly, as a mother.
It begins like this:

"I'm such an idiot!" I think as I watch volunteers from Doctors Without Borders attempt to lift a nine-months pregnant Syrian woman out of a criminally overcrowded, flimsy raft Turkish smugglers provided for her escape to the island of Lesvos in Greece.
This is her first stop as a refugee on the long road to a new home in the European Union, should she survive.
It's surreal to leave my home in Los Angeles where, along with my husband, I'm raising two daughters and live an incredibly predictable life to being at the epicenter of one of the greatest refugee crises since World War II.
But my friend Jamie Grumet invited me to travel with her Raise It Up Foundation to deliver much-needed clothing and maternity supplies to the refugee transit camps and I decided to go.
I'd had Walter-Mittyesque fantasies about volunteering on this small Greek island, envisioning myself glamorously lunging into the sea to rescue a Syrian infant from a sinking dinghy, looking comely in my stretchy pants, my courage (and wet t-shirt) landing me on the cover of Time magazine.
I'd resuscitate this fortunate infant so she can go on to win the Nobel Peace prize for solving all the problems in the Middle East, thanking that one selfless, yet wildly attractive volunteer who made it all possible.
Things get real when I'm handed the three-year-old son of the pregnant woman.

He keeps trying to run back into the water, back into the boat where his mom has gone into labor while in the throes of hypothermia.
He isn't crying, he's stoic, which somehow makes it worse. I can't help imagining how terrified my children would've been in this situation. How traumatized they'd be to see their mother suffer like this.
I watch as medics and volunteers struggle to bring the mother ashore, her husband cradling her head the whole way, never taking his eyes from her face.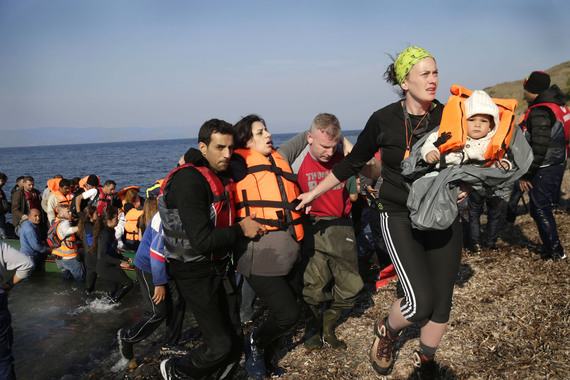 (Lori Dorman's photo of Doctors Without Borders and A Drop in the Ocean volunteers aiding the pregnant mother of two.)
Then I get to work, helping the boy into dry socks and shoes.

Handing out drinks and candy bars and bananas to refugees whose teeth chatter and bodies convulse with the cold. Despite their dire circumstances, they will only take one food item. One banana. One apple. One chocolate bar. I tell them they can have more but they say, "Someone else might need it" and thank me so sincerely I want to cry.
These Syrian families don't want my pity. They'd rather be my host. Offer me food. Welcome me to their land and into their homes.

The pregnant woman and her family are ferried away by ambulance. The remainder of the refugees line up along the side of the road as a kind of euphoria takes hold. They feel safe at last. They're going to make it. Everything will be okay.
That night 130 die in the Paris terrorist attacks and hundreds more are wounded.
I sit in the hotel lobby with fellow volunteers paralyzed, watching the news unfold; the horrific images of slaughter unraveling across the television screen.
The following evening, as my volunteer team and I are regrouping, we hear a loud explosion. We rush to the patio of our hotel and see massive flames leaping into the air in the Molyvos harbor just a mile and a half away.
Two boats are on fire, and we can't help but wonder if they were targeted because the harbor is one of the main refugee intake locations.
I decide America can't allow "these people" into our country. It's too dangerous. I'm afraid. For myself, for my family, for my children.
Plenty of politicians share my fear.

Red states want to close their borders to the refugees and Donald Trump has a lot of new ammo to dislodge his comb-over.
As I'm yearning to return to my suburban bubble; a failed glamorous hero, I talk to Suleman; a volunteer from Starfish; an NGO working on the island to aid the refugees.

I ask him if he thinks we should stop them from crossing our borders.
Without hesitation he says, "No, it would be wrong. These families are running away from the same terrorists we're afraid of."

Again and again, the volunteers I meet on the ground, from Sweden, Norway, Holland, Germany and Spain, in particular, say they support the refugees now more than ever.
I challenge my xenophobia by returning to the camps where we discover the refugees are even more gracious and self-effacing.
They know Paris has just made their chances of finding refuge and a future all the more precarious.
These are the faces we see. The people we talk to: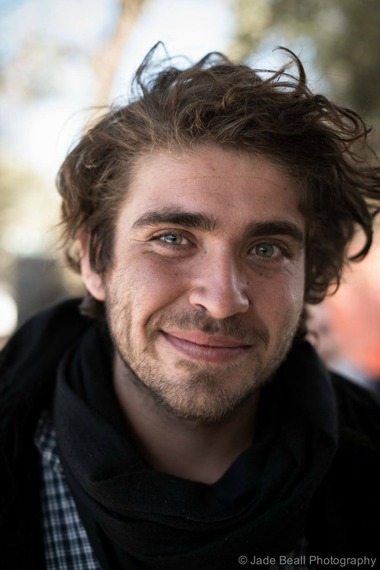 This young man was a classical guitarist in Syria. If he didn't leave he'd have to join the army, which he considers a terrorist organization. Or Isis, which is a terrorist organization. Or he would be killed. Becoming a refugee was the only way to stay alive and not become a terrorist. At 20-years-old he could be my son.
The photo was taken in Kara Tepe camp by Jade Beall.)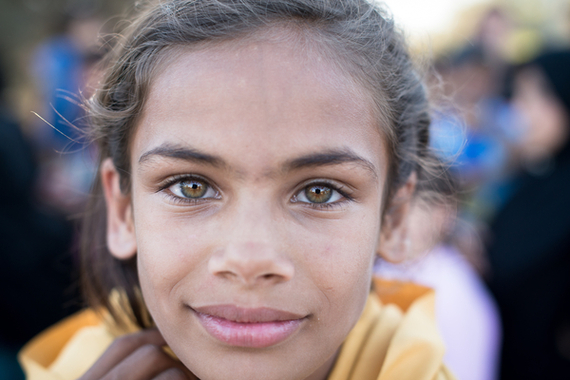 We found this lovely girl in Moria camp, which looks more like a prison, with high walls and barbed wire, than a camp because it's where they send the single, Syrian men and the "economic" immigrants from Afghanistan, Iraq and various countries in Africa.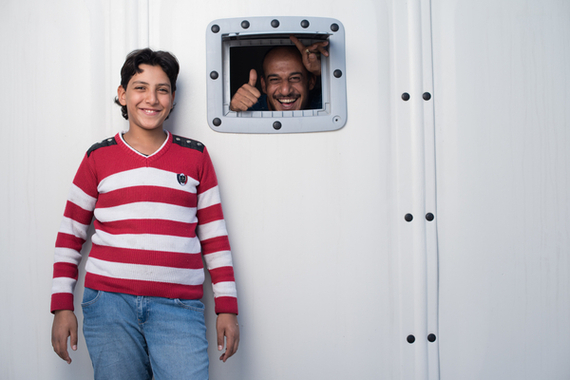 This young man followed us around Kara Tepe, because he liked having his photo taken and was a bit of a ham like my youngest child. We fell in love with him. Photo by Jade Beall.)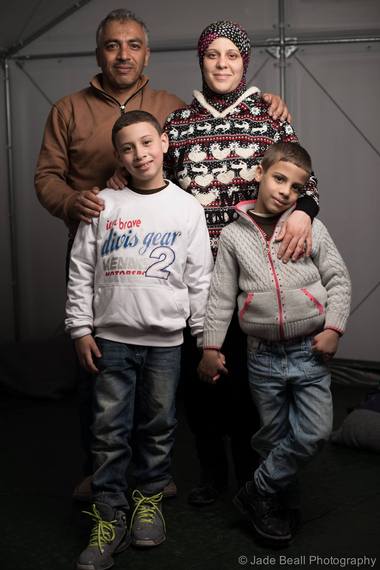 This father was thrilled to have a portrait taken of his family, because he was just as proud of them as I am of mine. Photo credit, Jade Beall.
As a mother, I now understand that these families are our families. These young Syrian men are our sons, these refugee children are our children.
I don't understand the complexities of what creates radicalized terrorists. But I do know that sustenance, inclusion, empathy, opportunity, freedom, education and all of the values America stands for are the antithesis of terrorism.
I believe that opening American borders to the Syrian refugees, especially post-Paris, (and now post-San Bernardino) will actually diminish the amount of freshly radicalized terrorists in a world that gets smaller and smaller and more connected by the minute.
I wish that Islamophobic pundits would visit the refugee camps and meet the mothers, fathers, daughters and sons that I've had the privilege to meet.
There's no room in the lives of refugees for Walter Mittyesque dreams of heroism. They are heroes every single day.
If you want to keep up with new stories I'll be publishing about my trip you can opt-in to my newsletter here.