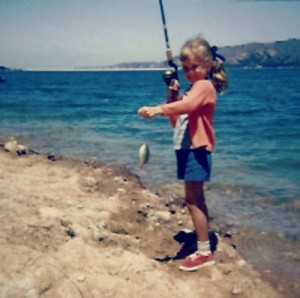 1. Sitting on the bottom of our swimming pool in Claremont, California.

And looking into my older step-brother, Derry's eyes through the murky chlorinated water, determined NOT to surface first. I could hold my breath for an entire minute and a half. Ten seconds longer than him.
2. Eating a Bombsicle.

Right after riding the dusty trails on my golden horse, Champion, just north of Cachuma Lake where I'm camping with my grandparents. The tangy, licorice-scent of wild fennel desultorily wafts into my nostrils along with the dust-motes in the late afternoon air.
3. Catching Bluegills on Cachuma Lake.

I used the night crawlers I dug out of the dirt myself for bait. (I wouldn't be caught dead using a meal worm.) Gutting, skinning and boning my fish while my cowboy grandpa, Rusty, looked on.
If any of his four granddaughters (not-a-one grandson!) complained about the fish guts, he'd yell, "Shad-up and do it! You catch 'em, you clean 'em, you cook 'em, I eat 'em."
I both hated and loved the smell of gutted fish each time grandpa drove us past the gutting station; we four girls riding with the wind in our hair in the open truck bed.

4. Jumping in the freezing-ass cold public pool at Cachuma Lake.

Thanking God I hadn't got my period yet like my poor, pitiful cousin Robin.
5. Spinning on the merry-go-round.

— right in the center of the sandy, bone-dry, playground on a scorching-hot August afternoon the day before we leave Cachuma.
The world is flying by in dizzying colors: mud-brown, wheat-green, chaparral-yellow.
My sister, Gina, cackles with glee as she pushes me round and round, then grabs a handle, running like hell, and leaps on herself, just before centrifugal forces can fling her far, far away.
At night in my sleeping bag, sandwiched between my sister and cousins after we've told the scary story of the bogeyman with a HOOK-FOR-A-HAND (!), I still feel like I'm spinning, around and around.
6. Floating in the seaweed-dense ocean off Hendry's Beach in Santa Barbara.

We've returned to my grandma's house from Cachuma Lake and my mom, who I don't live with anymore, has traveled down from San Francisco to see me. I'm waiting for the next set to come in so I can body surf to shore. My mom floats next to me. The two of us bob like corks sprung free from bottles of champagne; the ocean making both of us bubbly and light.
7. My grandma tucking me in that night.

I'm exhausted, and sun-tired, and still feeling the swells of the surf as grandma leads me in The Lord's Prayer. A chorus of frogs, that live in the creek behind her house, accompany us.
I know in this moment that I'm safe, loved and am living in the center of the universe. That there is nowhere better I could possibly be.
I'm not raising my girls exactly as I was raised back in 1975. But it's my fervent hope they'll have their own Summer Memories. Ones I didn't even realize we were making.

I'd so love to hear about your Summer Memories in the comments below! Pictures welcome. If you enjoy these stories be sure to SHARE. xo S