My 74-Year-Old Mother Takes on Ecuador (The Galapagos MisAdventure)
Her Hillside Train Both Hit a Car

and

Derailed!! She took it all in stride …
Kathy Bart is guest posting today.
She's just returned from Ecuador and The Galapagos Islands, she is also my mother (all three challenging environments).
In our lifetime we've travelled all over the world together, by plane, train, sailboat and 1965 Volkswagen van. There is no one who lusts more for foreign climes and adventure than my intrepid mom! I give you, Kathy:
As the much maligned mother of TWFKAB (does the acronym give one pause I wonder – should I perhaps be known as MOTWFKAB … or MMMOTWFKAB?)
Shannon Here: Perhaps MMOTWFKAB – which means Mildly Maligned Mother of The Woman Formerly Known As Beautiful!
Anyway, I'm here at the bequest of my still beautiful, now middle-aged, daughter to regale her readers with the recent exploits and misadventures of the aging (beyond boomer) grandmother of her children.
Let me backtrack for a moment; I'm fairly fit at 74 but long gone is the coltish, dark eyed, twig-like person that I was when I gave birth to my one and only progeny.
Hectic years (where did they all go?) and a vitally lived life have taken their toll:
A knee replacement has been looming for several years.
The inevitable loss of elders and a beloved husband has left a huge vacancy and sense of fragility that will not be redeemed.
Smallish household emergencies have become insurmountable challenges. They are somehow (almost always) met with a determination to "carry on to the end." This has become a mantra.
Certainly a trip to Ecuador and the Galapagos Islands was NOT on my "to do" list, let alone bucket list, but did become my recent reality.
My immediate response to most simple invitations or off-the-wall challenges is to react with, "Sure, count me in" which, I figure can be delicately, if not guiltily retracted as the event approaches, rather than "let me consider this idea," or just plain, "no" (not, unfortunately, a word in my vocabulary}.
This could be the result of my "carry on to the end" mentality, or merely an innate desire to see and do as much as I can while I'm still upright but, more likely, should be attributed to a people-pleasing sense of ingratiation.
I was particularly apprehensive about how I was going to afford the trip. One of my friends from the UK is retired and goes on a lot of vacations. She doesn't have a lot of savings but she does own her own property, so she decided to take out an equity release policy. She showed me this calculator which can quickly work out how much money you're entitled to loan based on the value of your home. Don't forget though, it's important to always do your research first when borrowing money.
So, as I said, the Galapagos Islands were not on my radar: South America? Zika virus? Drug running? Are we kidding?
And yet I had said, "Sure, count me in" to my friend Maggie who had done lots of research on sites like https://www.voyagers.travel/galapagos-flights/ and had found good deal on a trip to Ecuador that included the Galapagos Islands where Charles Darwin and (I was to discover) others of scientific note, had determined life as we know it had evolved from an aquatic, primordial single cell a billion or more years ago.
This concept was based on a study of the birds and mammals and their unique ability to adapt to their environments on these volcanic, remote Pacific Islands. Science, new insights, adventure … called to me, albeit weakly.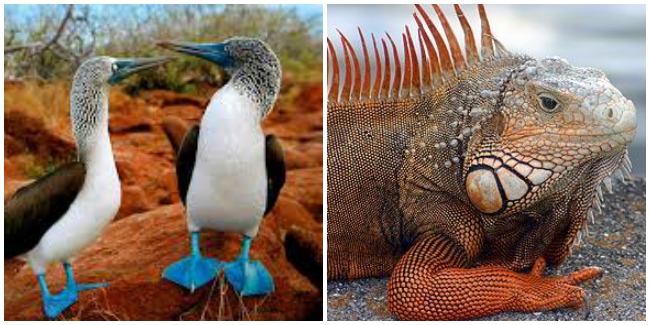 I have never been a back-packing, hop on any old bus, easy-going traveler. My beloved husband had to drag me whining and protesting – yanking me out by the roots from my terra firma – to get me on a plane to Australia or Europe or Asia.
Grass NEVER grew under his feet while giant lawns of it did under mine.
But once I got going, once I'd finished my 100 point checklist of all that must be done, all that could go wrong, must be packed and repacked, I reluctantly surrendered to the inevitable.
Once on the plane, however, with gangway removed, doors closed, seat back reclined, a good spy novel in hand, unnecessary bifocals perched on nose …
I became the new, more beautiful, exciting me: worldly, intriguing, champagne imbibing, mysterious with an intellectual bent (spy novel notwithstanding).
Once on the plane, on the road, on the rails and yes, on the bus, I was a gung-ho, traveling one-woman show, hubby racing to keep up.
We'd hunker down in small hotels, rented apartments or cottages or, on more than one occasion, a charming pension on the Mediterranean – for months!
Renting cars, riding the rails, exploring off-the-beaten-track, sometimes downright scary and dangerous neighborhoods in far flung cities with brio.
"Don't mess with us!" was our demeanor (in a non-ugly American sort of way).
And no one ever, (rarely) did mess with us. But, you see, I had my partner, my best friend, my stalwart can-do guy by my side and he is gone now. How I miss him …
Nevertheless, not to disappoint Maggie or show my true wimpy colors, we flew off mid-February to Guayaquil, Ecuador, well supplied with all the drugs necessary to survive tummy gollywobbles and any possible germ that might crop up in this exotic, mysterious land.
Good thing I had 'em as this turns out. Being "of a certain age" and admittedly grey headed and bit wobbly, Maggie and I packed walking sticks and sturdy shoes for what we felt would be slightly uneven surfaces. We carried lots of stuff we'd never need and not enough of what we would need in our luggage. When you are reaching your old age, you will need to make sure you purchase the right equipment, for me and Maggie this includes a walking stick but for others, you may want to take a look at some other products from Scooters 'N Chairs. Please make sure you have enough travel knowledge to ensure safety and a great holiday.
Due to volcanic activity around Quito (the capitol or Ecuador) and the cancellation of a couple of side tours, we were booked into a cloud forest reserve in the north western quadrant of the country.
This entailed a flight to Quito and a white knuckled van ride for 3 1/2 hours on narrow, winding and eventually corrugated dirt roads to the lodge at Mashpi in the heart of the preserve.
The beauty of the scenery overcame our terror as our van driver attempted, yet again, to pass a couple of trucks on a hairpin turn and Maggie and I looked at each other, shrugged our shoulders and fatalistically embraced the moment.
When we finally arrived at the lodge after passing through massive Jurassic Park-inspired gates, forded a couple streams, bumped and skidded on the muddy, narrow park road, we were greeted at a impressive cement and glass structure by a cadre of dark young men bearing tall glasses of juice (that my doctor had warned against drinking: "only bottled water that you open yourself, and brush your teeth with beer or wine!")
We graciously accepted the offering and were checked into our room at the lodge just in time for lunch in the spacious dining room with windows onto the cloud forest canopy.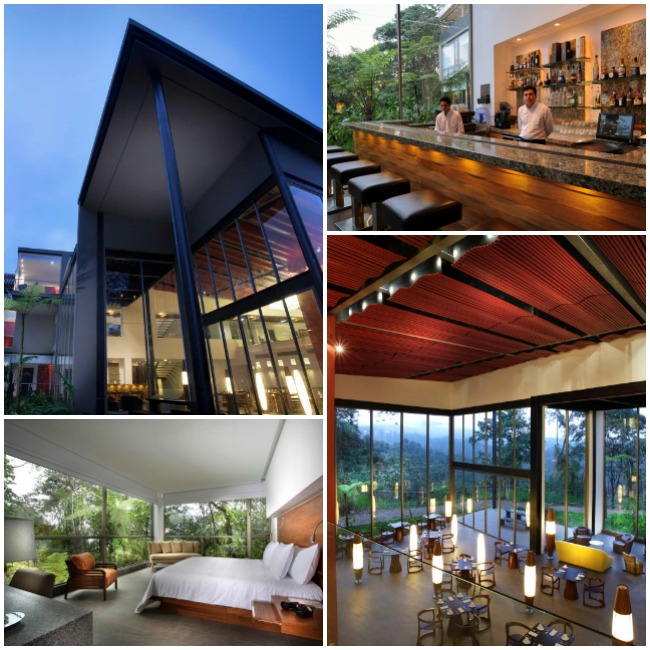 The floor to ceiling window in our bedroom also looked out into the forest and we were pretty sure we'd arrived someplace darned close to Heaven.
But not to rest on our survival laurels, no nap for us!
Our own private guide, Juan Carlos, who turned out to be a biologist (and slave driver) had a trek in mind for us and "no" was not an option.
"But we're old(er) and tired from our long trek by plane and van" was to no avail.
We were outfitted with thick socks and rubber boots and off we set in the mid-afternoon drizzle, up the muddy road from whence we had just arrived, through a stream or two, walking sticks in full motion, onto a path and into the heart of the forest.
All around us the sound of dripping wetness and call of unseen birds, the wisps of clouds passing silently by, while Juan Carlos described the breathtaking tropical forest that surrounded us and his hopes for protecting this amazing and very necessary environment.
To be continued …
If you're enjoying my mother's (aka MMMOTWFKAB) tale of a Galapagos trip for the elderly — and what happens when your train derails on a precipitous incline — stay tuned for subsequent posts by hopping on my newsletter HERE!
---
---