101 Nights of Great Sex! The App is Here!
When it comes to Married Sex I've overshared. Some of you have fled. But some of you have been grateful to know what works, what doesn't work, and that you're not alone when Things-Go-Lame, which they sometimes do.
But there have been a few moments of soaring excellence and I finally have the honor of introducing you to the author/sex maven who has helped keep my sweet man guessing.
I'm also thrilled to be able to help her roll out her sexy, saucy, secret new app! But first, a little story from the author herself:
---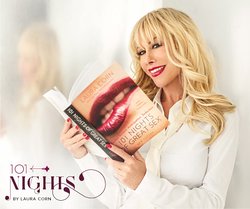 My name is Laura Corn and I make my living selling sex tricks.
With the end of my first marriage to a man who said I was "the worst lay he ever had" I made it my mission to become smoking hot in the sack.
ALONG with becoming the vixen I was always meant to be, I ended up creating 500 seductions in 9 best-selling books helping other couples have great sex.
I must have a trustworthy face because people end up sharing their sex problems with me even when I'm off-duty.
At a dinner party recently I found myself on the listening end of a conversation with a friend-of-a friend whose marriage was in a sexual rut. It can be quite frustrating for couples to keep the spark of sexual intrigue alive after many years together. Although, this wife sharing story might give some couples a few ideas.
"My husband brings home half the bacon and fries it up in a pan. But in every other aspect of our marriage I'm in charge," Desdemona (an alias) complained over her Appletini.
"I plan our kids' activities, family vacations, expenses and in what position my husband and I have sex – the Reverse Cowgirl being my go-to. I like being the master of my own destiny …"
"And everyone else's, apparently," I managed to interject.
"… but it's killing my married sex life! We're totally bored."
Well, who wouldn't be? I wanted to shout.
Monotony and predictability will kill sex faster than a Catholic girl lifting her skirt for the boy's rugby team. Perhaps he's hoping for some variety, like the things he probably sees cam girls get up to online (https://livejasminefrance.fr/)!
I told Desdemona there's an equation missing from her fifteen-year marriage to Othello (another alias) that works no matter how many years a couple has been together.
ANTICIPATION + SURPRISE + CREATIVITY = GREAT SEX
A few days later I personally delivered my book 101 Nights of Great Sex to Desdemona, suggesting she direct Othello to Night #7, which is in a sealed envelope marked "FOR HIS EYES ONLY."
All 101 nights come in His or Her sealed envelopes. Its not a book you read, its a book you do!
The title of Night #7? "Fifty Shades of Pleasure."
There's a reason E.L. James's Fifty Shades franchise is a mega-seller, and honey, it ain't the prose.
From the publication of the first bodice-ripper to sex-positive magazines like Cosmo, the Ravishment Fantasy has kept women panting and turning pages for generations.
I hear the building of anticipation can be done with a Fleshlight for the man while he uses the ropes, ties, and floggers in the Fifty Shades franchise tap into a woman's desire to be so sexy that her man must dominate her.
(Safely, of course – ravishment is not rape.)
Desdemona delivered the book to Othello and, as the days rolled by, her anticipation and excitement grew.
When would Othello come to her? What was going to happen? What did he plan to do with her?? Just the waiting got her hot.
Imagine her excitement when she came home from work on a Tuesday night to discover the kids were sleeping at grandma's and Othello was waiting with a tumbler of Scotch, a blindfold and a rope.
She didn't know whether to laugh or moan. Othello had never taken the Alpha role before and it felt awkward.
She wanted to take control, to ask, What was in the mail? Had he eaten yet? Would grandma be taking the kids to school the following day?
But she stopped herself when Othello informed her that she'd been "disobedient" and needed to be "punished."
Desdemona's heart leapt straight into her lady bits.
What I've learned over the last fifteen years of helping couples have great sex is that what they often need most is permission.
And often men need it more than women. What I've learned is, for women, there's nothing hotter than a Man With A Plan!
That night, between sips of Scotch, Othello blindfolded and bound Desdemona. He flung her over his lap used his hands on her naked-as-a-newborn derriere. Over and over again until she was in complete submission.
Did you know that a good sound smack on the ass actually stimulates a woman's clitoris?
Use the information wisely.
Othello made Desdemona wait then took her by surprise. The couple embraced creativity by playing new roles and Voila … great sex ensued!
Last I heard D & O were on Night #32. I can hardly wait for them to report their findings.
---
This is a sponsored post as I'm helping Laura roll out her new download 101 Nights today!
But I've been using her book now for six months for no fee, simply for better, innovative sex tricks to keep things in my longterm marriage, how shall we say … brisk?
I've just downloaded the app which means I'll have sex tricks up my sleeves where'ere I go.
Here's a bit more about the app:
Based on the award-winning New York Times bestselling book, 101 Nights of Great Sex, 101 Nights is a private, sexy and secure app for lovers ready to explore new worlds of passion + fantasy together.
It's the ultimate seduction toolkit for two, discretely on your smartphones.
Inside is everything you two need to plan a full year of daring, jaw-droppping sex, from complete seductions, to teasing little sexts to get your partner's mind racing.
If you're ready to heat up your relationship, and push the naughty envelope – download 101 Nights today!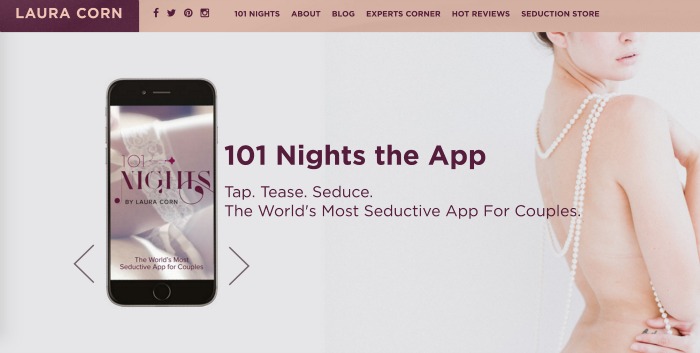 ---
---