10 Fun and Easy Ways to Change Up Your Style
As you know I'm prone to Shopaholism. Case in point, my 71 Dresses in 71 Days series. Here's something I'm going to try to keep my credit card from exploding:
Every woman goes through phases of being uninspired with her wardrobe.
You likely know the symptoms: wearing the same few items over and over, staring at your closet for hours, and not being excited to get dressed.
This means that it is time to shake up your closet and change your style. Fear not: this won't require revamping your entire wardrobe or spending your entire paycheck.
Here are 10 easy ways to mix up your style without breaking the bank:
1. Get inspired. If you're in a style rut, just look around you for a little inspiration. Fashion bloggers are great at wearing items in unexpected and stylish ways. Take to Pinterest and Instagram and look for the style gurus there – they can open your eyes to new trends. If that isn't your style, browse celebrity or fashion magazines to see what's being worn on the runway or red carpet, and then incorporate it into your style.
2. Add statement boots. Boots are the perfect finishing touch to any outfit and can take it from ordinary to extraordinary with minimal effort. For a chic, put together look, there's nothing better than riding boots. Wear them with leggings and a long sweater when running errands, or dress them up with black jeans and a blazer. For a more rustic look, try a pair of cowboy boots. These boots in particular have become a trending fashion piece that make a big statement when worn with shorts, skinny jeans, or a flirty dress.
3. Try a new hairstyle. Here's an idea that won't cost you a dime if you don't want it to. Play around with your hair and don't be afraid to try something new—even something as simple as parting your hair on the opposite side can totally revamp your look. Trendy hairstyles include long waves, chic braids, or top knots.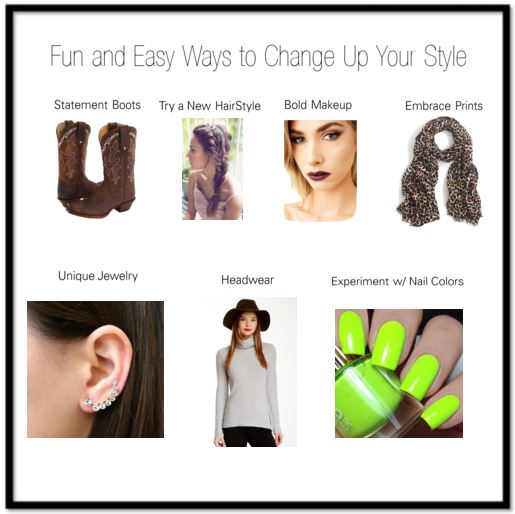 4. Mix things up. Change up your style by reworking things you already have on hand. Be unexpected and pair items that might not typically go together, like layering a dress over pants or shorts over tights. You can also try dressing up or down standard pieces by wearing a hoodie with dressier clothes or a silk blouse when running errands.
5. Go bold with makeup. It's easy to get into a makeup routine and do your face in the same way everyday, but changing even one part of your makeup can have a big impact. Try a bold lip color, like deep red or purple, or embrace dramatic eye makeup like a dual wing. If you already wear a lot of makeup, you can do the opposite and try more neutral tones for a fresh-faced look. If you have trouble thinking outside the box when it comes to make-up, YouTube has hundreds of beauty gurus that can teach you how to get the perfect winged eyeliner or ombre lips.
6. Embrace prints. Make a splash with fun prints. Start small by adding printed accessories, like a leopard print scarf or a floral bag. You can then work your way to bolder prints like houndstooth into your clothing. Pattern mixing is incredibly trendy right now and a great way to wear items you already own in a different way—just be sure to keep things in the same color area so it doesn't look too chaotic.
7. Add some bling. Every girl loves a little sparkle, so incorporate bling into your look to take it to the next level. Trendy jewelry, like ear cuffs and midi-rings, isn't very expensive, but can totally transform a look. Add a glamorous statement necklace, sparkly shoes, or glitter nail polish for extra oomph. A word of caution, however: be sure to limit the bling to only one or two areas on your outfit or you could look like you're getting ready for the disco.
8. Top it of with headwear. Sometimes all it takes to change an outfit from drab to fab is to just put on a hat. A flappy boho style hat can take an outfit from boring to trendy, while a baseball hat or beanie can be the perfect casual accessory. In the summer, wearing a braided headband or flower headpiece can easily give you a casual, retro-inspired vibe.
9. Experiment with bold nail color. A small step that can have big rewards is mixing up your nail color. Nail polish is an inexpensive addition and doesn't require the same commitment level of cutting your hair or investing in boots. Trendy nail colors right now are dark hues, like gray or eggplant, or light shades, such as white or champagne. If you are feeling even more daring, go for a statement finger in a contrasting bold color!
10. Add a pop of color. Spice things up by adding some new color in your wardrobe. If you typically wear all black, even adding navy or gray can be a big change. For the more adventurous types, a pop of red, yellow, or green can have a huge impact. Start small with a colorful accessory before branching out into colorful classic pieces, like a bright cardigan or blazer, to transform your wardrobe.
Don't be afraid to change your outfits up and try something new every once in a while, it can be easy and fun to do. Get inspired and find your new style today! What are some of things you want to try?
This post was sponsored by "Russell's Western Wear." My next paycheck goes toward their Black Signature Calf with Blue Stitching. Because I'm badass like that!
---
---