A Gunman Spitting Lead Made Artist Ruthie Briggs-Greenberg Create a Dragon That Couldn't Spit Fire. Meet "Felicity The Dragon"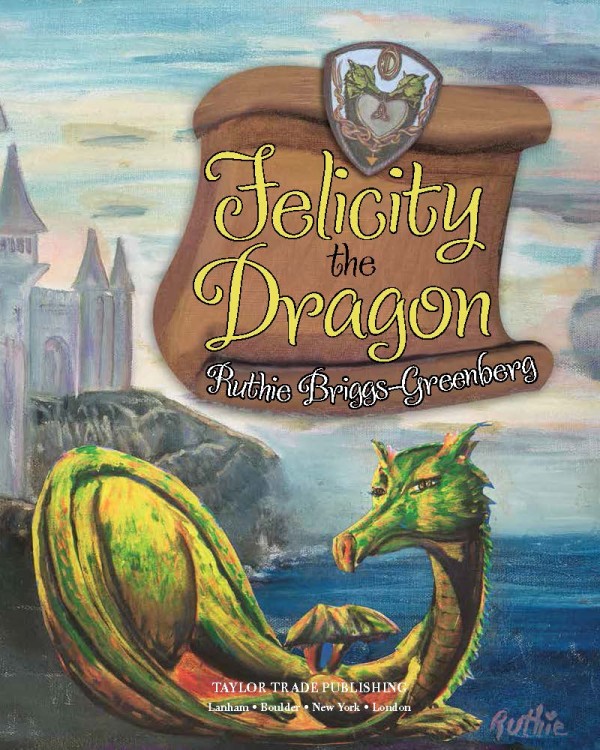 "Just let your kids into my garage and they can paint on anything they want," said Ruthie Briggs-Greenberg the first time I brought my 2-year old to her house for a moms' group playdate.
"What do you mean they can paint on anything they want?" I asked Ruthie, looking over at ten two-year-olds just revving their engines to get into Ruthie's garage and turn every inch of it into a Jackson Pollock painting.
"I mean they can paint on the floors, the walls, the furniture (which was all wood) or even on an easel if they feel so inclined." Best. Playdate. Ever.
The kids used sponges, and brushes, and rollers, and spatulas. They used tempera and acrylics and water colors. They used smocks and paper towels and the front of their t-shirts.
Ruthie patrolled the garage, reinforcing for our children that fun and creativity were the most important parts of the journey to their works of art.
And now Briggs-Greenberg, an avid painter since the age of seven because dyslexia made it too difficult to read, has seen her lovely work of art come to fruition in her newly published children's book, Felicity The Dragon which is available for order at Amazon, Barnes & Noble and your local bookstore.
(This is NOT a sponsored post!)
Accompanied by Briggs-Greenberg's stunning paintings is her tale of a dragon who simply doesn't feel like she's a real dragon.
She's not fierce or mean. She doesn't breathe fire or spit venom. She prefers sharing cupcakes and taking boat rides to eating passels of terrorized villagers.
In fact, she's the kind of dragon a child might very well yearn to snuggle with at night.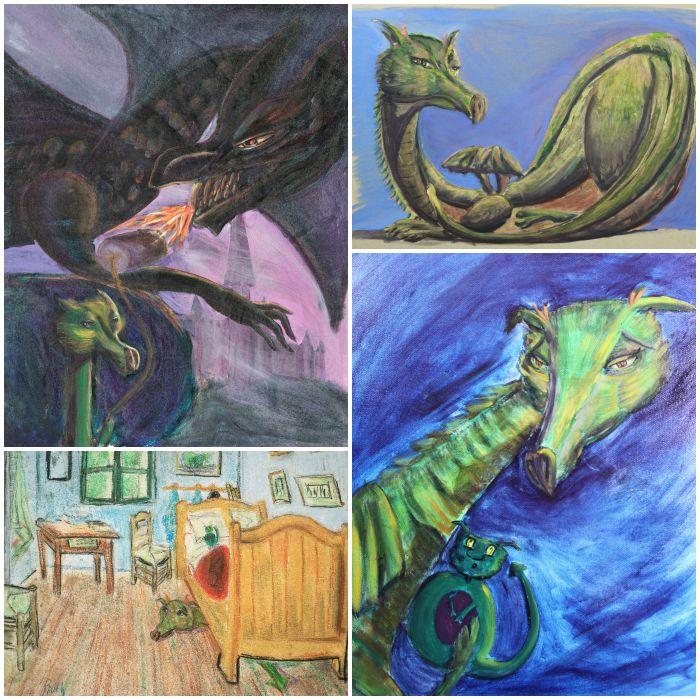 I was lucky to be able to sit down with Briggs-Greenberg and talk to her about her first published book. (Soon to be followed by a second book titled, Sea of Echoes.)
Shannon: "Where did the idea for Felicity come from?"
Briggs-Greenberg: "I rhyme all the time. I was taking a walk and rhyming and writing in my head when Felicity's story came to me. She wasn't a visual image at first, (she started as) a poem.
"That was eighteen years ago. Over that time I submitted Felicity to eight or nine different publishers, made ten or so mock-up books and even made a few stuffed Felicity dolls. Nothing. No response at all.
"Then in January of 2014, after two kids and all that entails, I went back to the drawing board and finished an updated version of Felicity, then took it to my biggest critic. My seven-year-old son, Arthur. He loved the new Felicity, so I resubmitted and that child-vetted image is what finally sold the book."
(It's in the upper righthand corner of the collage above.)
Shannon: "So, you've been painting since you were seven?"
Briggs-Greenberg nods: "I used to make books in school. I have little books stuffed in my memorabilia. I used to do book reports and bring sets in. Set design with mannequins."
When I asked Briggs-Greenberg why she was attracted to the outsider theme in Felicity she explained, "I'm dyslexic and I was an odd kid. I was very creative and strange. When you can't read at seven, it makes it a bit of a challenge to figure out how to fit in."
Shannon: "What made you decide to make painting and writing books a profession?"
Briggs-Greenberg: "I had a life-changing event that got me here. I was in a hostage situation almost twenty years ago. I was working in aero space and one day a gunman entered my office to kill my boss. Three people were shot (no one died). I hid under desk so terrified that I literally peed my pants. I quit that job almost instantly and decided to commit to painting and writing."
Briggs-Greenberg was also one dissertation rewrite away from getting her first masters in political theory when she walked away from that too because she realized she didn't want it. She really wanted to paint and draw so Briggs-Greenberg is currently getting her (second) Master's degree at the Academy of Art University in San Francisco.
She thinks she might be painting as many as 100 hours per week. When she began her master's program she had no idea her books would suddenly be bought, giving her a time-crunching deadline. She does say that her master's program has given her the technical prowess she needed.
"I couldn't have done Felicity without it."
Felicity is a wonderful children's book. But as an adult I loved it too and am thrilled to see my friend take flight along with her lovable creation. xo S
Ruthie Briggs-Greenberg is an artist, painter, creator, sculptor, author and illustrator has been working for over fifteen years selling artwork to various, including the Four Seasons Hotel in Beverly Hills, the Sunstone Vineyard and Winery in Santa Ynez, California, MGM and Paramount Pictures, among other venues.

She is currently finishing her Masters in Fine Arts (MFA) in Painting from the Academy of Art University in San Francisco. Her paintings have been showcased in numerous Southern California exhibitions including Schomburg Gallery at Bergamot Station in Santa Monica, CA, California 101 in Redondo Beach, CA, Buenaventura Art Association in Ventura, CA and Gallery 104 in San Clemente, CA.

Briggs-Greenberg is a member of the Society of Children's Book Writers and Illustrators, the Lewis Carroll Society of North America, International Women's Writers Guild, Laguna Plein Air Painters Association and Pi Sigma Alpha Honors Society.
---
---