Mary Jane Minkin M.D. Answers All of My Questions About How Menopause Affects Sex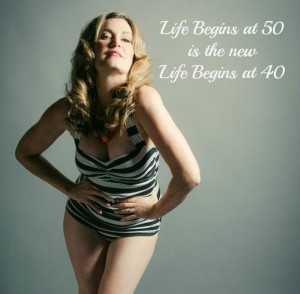 Vaginas. Half of us have them. If you're reading this you may have one and if you don't have one, you would probably like to be acquainted with one, so this applies to you, too.
One day around year fifty the wonderful, multi-tasking vagina will begin to change. Mine, it goes without saying, is still a Maserati. Fast, sleek and a bit of a show-off. But as the last year of hot flashes have made very clear, the times they are a changing.
To that end I was thrilled to be invited to a Google Hangout with a thankfully hilarious, astute, no-nonsense OB-GYN Dr. Mary Jane Minkin, the Clinical Professor of Obstetrics, Gynecology and Reproductive Sciences at Yale University School of Medicine and the women's health advisor to Prevention Magazine.
I, and four other midlife bloggers, had a slew of questions to ask Dr. Minkin, which revolved around that cradle of civilization, that I thought would be embarrassing to discuss, but which turned out to be a conversation not just about maintaining vaginal alacrity to the end of time, but also about body image, female sexuality and somehow George Clooney managed to pop up (so to speak) in the course of the conversation.
The questions all revolved around enabling the change with gusto, rather than dread. I invite you to watch the edited down conversation (where I do quite a bit of strange head nodding) as I think it will answer many of the questions you too may have about menopause and how it affects sex and sexuality:
SADLY THIS VIDEO IS NO LONGER AVAILABLE. SIGH.
The opinions expressed in this video are those of the participants and are not those of Church & Dwight Co., Inc.
I think my favorite take-away from my conversation with Dr. Minkin was that oft-used, yet underrated slogan, "If you don't use it, you lose it."
We live during a time and in a place where aging doesn't have to be a debilitating, depressing evolution. We have resources previous generations did not have before us and it's my plan to take full advantage. For me that means eating great food, doing exercise that I enjoy, remaining committed to and invested in the sexual component of my marriage to a generous, loving man, and eventually donating any droopy neck flesh to whoever may need it during a cold winter, because I live in L.A. and won't be needing it.
Finally there's a simple trip to the grocery store to make sure everything has a fluidity about it. To that end, a bit more about my sponsor.
Replens is the clinically tested, doctor recommended brand of long-lasting vaginal moisturizer. As with dry skin that you experience on your face and hands, regular moisturizing treatment with Replens may be necessary to prevent dryness from recurring. Replens is different from most other lotions or lubricants because it contains a patented bio-adhesive ingredient that allows it to attach to dry cells and deliver continuous moisture for up to three days. Click here to learn more.
Ladies, I hope this post and video not only gave you new insight and awareness about enabling the change, but also gave you a good laugh because that, and sex, are a huge part of remaining vital.
"Laughter is the sun that drives winter from the human face." — Victor Hugo
"Sex is an emotion in motion." — Mae West
---
---