I'm Reading at the 2015 Orange County "Listen to Your Mother" Show on Sunday April 26th!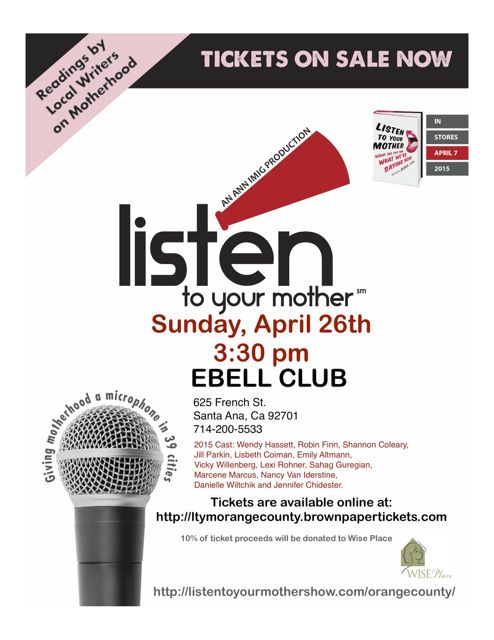 Hello people who inexplicably read me! (and thank you for that!)
I've been selected along with 12 other writers to read at this year's Listen To Your Mother Orange County Show. Tickets are available HERE!
Fabulous mom, producer and lady-with-a-gorgeous-set-of-gams, Ann Imig of Ann's Rants, founded the Listen to Your Mother series in 2010 and it's since spread like wildfire across the entire country. There are 39 productions of it this year alone!
The mission of each LISTEN TO YOUR MOTHER production is to take the audience on a well-crafted journey that celebrates and validates mothering through giving voice to motherhood–in all of its complexity, diversity, and humor.
LISTEN TO YOUR MOTHER aims to support motherhood creatively through artistic expression, and also financially–through contributions to non-profit organizations supporting families in need.
This show is an amazing gift for mother's day. I really hope to see you there!! xoxox S
---
---