5 Reasons Cooking For Kids Sucks!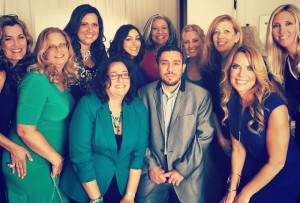 Here's another great story from the Listen to Your Mother 2015 show. Written by the gorgeous and talented Vicky Willenberg.
She writes this cautionary tale about cooking for kids:
When I chose to be a mother, I believed that all "Good Moms" cook.
I don't know who planted that seed in my head considering my own mother hated cooking and had no problem letting us know.
I can assure you I've tried everything to make cooking less painful. I've been to Dream Dinners, initiated "Family Cooking Nights," subscribed to Cooking Light and Bon Appetite. I've invested countless hours watching the Food Network – hours I could have spent doing something truly productive – like taking a nap.
After all this hard work, I have confidently come to the following conclusion:
It's not me … Cooking for a family sucks. And I can prove it.
1. First, there's Meal Planning:
• There's nothing pleasant about having to do anything 3-5 times a day, 7 days a week.
• 30 minute meals are not home cooked- they're microwaved
• Cooking requires food
• Food comes from the grocery store- Do YOU like going to the grocery store? Don't answer that!
• Is there ever a convenient time to go to the grocery store? That's a rhetorical question.
Option 1: Shop while the kids are in school. Sure! We'll just add another 8 hours to the school day.
Option 2: Shop with my kids. With. My Kids. With MY kids.
• No, we cannot get Fruit Loops.
• I understand that Jack's mom allllways has Fruit Loops.
• No Fruit Loops.
• We are not getting Fruit Loops!
• Then I come home and have to find a place to put this stuff: counter, cupboard or pantry?
• Don't even get me started on my refrigerator … Where spinach goes to die alongside 3 open bottles of ketchup
• The ultimate question: Am I actually going to cook what I thought I was going to cook?
• I'll commit to an entrée, but there's no guarantee of a side dish
• (sigh) And the green vegetable … 'nuff said
2. Next we have … The Prepping! (That's fake excitement, by the way)
• Wash
• Cut
• Dice
• Slice
• And brown … It's almost as fun … as ironing
3. And now it's time to … Serve the food!
• "Yes, you've had this before."
• "You liked it last time!"
• "The green beans are not touching your chicken."
• "No they're not."
• "Well, eat 'em anyway."
• "Do you want some hamburger with your ketchup?"
• Salt- so necessary and yet so evil
4. Everybody ready to sit down? Because it's table time!
• You think the hard part is done. It's just beginning.
• I don't know when Dad's coming home.
• I don't know if Dad will be eating with us.
• You need to wash your hands.
• Sit down.
• Leave your napkin in your lap.
• That's your shirt, not your napkin.
• Really? At the table?
• You need to say 'excuse me.'
• That's enough ketchup.
• It is not mushy!
• You can use the same fork.
• Sit down.
• That's not appropriate table conversation.
• Please chew with your mouth closed.
• That's not how you hold a fork.
• If you want dessert, you have to eat your dinner.
• Well then, if you're full you don't have room for dessert.
• Just have two bites. Fine, 1 bite. Good grief! Just. One. Bite. Here's the ketchup.
• SIT DOWN!
5. Exhausted yet? I hope not because we've still got… The Clean-Up
• "Clear the table"
• "…the entire table"
• "Why is there stuff still on the table?"
• The leftovers that I alone will be eating over the next several days
• The surplus next to the deceased spinach and now 2 open bottles of ketchup
• "Is someone going to wash the dishes?… Anybody?"
• Would somebody please empty the dishwasher and help wipe the counters?"
• Mop the floors? "Here, Spike! Come on, Spike! Who's such a good dog?"
• Ok- all done- time to get off my feet…Sigh of relief. Revel in it for a moment.
• "What? Now you're hungry? You just ate! No, you may not have a snack!
• I've. Clocked. Out.
• The kitchen. Is. Closed!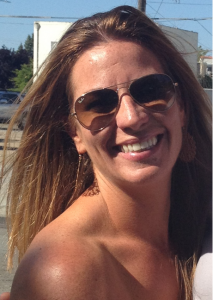 Vicky Willenberg is a wife, mother and obsessive volunteer at her sons' school.
She works in Digital Marketing & Communications while juggling the class bake sale, folding laundry from 2 weeks ago and searching for the dog escaped yet again.
You can find her chronicling it all on her blog The Pursuit of Normal (http://thepursuitofnormal.com/) or sharing the daily laughs of raising two boys on Facebook (www.facebook.com/thepursuitofnormal).
Vicky has been featured on Scary Mommy, Mamalode, BlogHer, and Mamapedia. She has also been a contributing author in both The HerStories Project anthologies as well as "Scary Mommy's Guide to Surviving the Holidays."
---