Am I The Only One Who Loved 50 Shades of Grey? (Videos)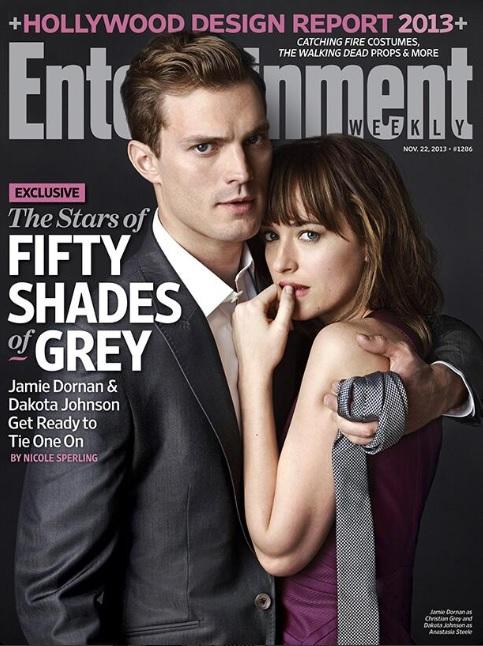 I slipped into Row D, seat 22, ostensibly ten feet from the movie screen on Valentine's Day.
I was alone. Unless you count the other 1,000 people in the packed-to-the-rafters theater.
I will admit here that I read two and a half of the 50 Shades of Grey books.
As a literature lover I just couldn't live with myself if I finished the third egregiously written book.
But as a married mother of two in a suburban routine I couldn't help the way my body responded (steam emitted from the undercarriage) with the turn of each page.
I didn't intend to see the film spawned from this pulpy, erotic, dime store tripe on opening day, but stumbled upon it when exiting the fantastically awful Jupiter Ascending (poor Eddie Redmayne) with my family and realized that Fifty Shades was in the next theater in ten minutes.
I asked Henry if I could stay and watch the movie while he and the girls went home. Did I see, in the gleam of his eye, the memory of how I pounced on him during my reading-the-books phase? His "yes" came at the speed of light and I wondered whether I'd return home to find him rigging an equestrian harness to our head board.
My family left and I purchased the last seat available for the six o'clock showing. My expectations could not have been lower, but my curiosity and schadenfreude needed satisfaction; the distinct pleasure of watching this inexplicable phenomenon sink like the Titanic under the weight of what was certain to be an albatross of a film.
Then it happened. The film was, dare I say, good-ish?
Dakota Johnson was the perfect blend of sexy yet relatable. Her performance teetered on the razor thin edge of innocent naif and curious daredevil.
(Here's her hilarious "How to make Anything Sexy" interview with Jimmy Fallon on the Tonight Show:)
Jamie Dornan somehow managed to deliver the line, "I don't make love. I f#@k .. hard," without his turn as Christian Grey becoming a career-ending role.
(Does anyone remember Brandon Routh?)
(Here's Dornan's equally adorable "50 Accents of Grey" interview with Jimmy Fallon:)
Director Sam Taylor-Johnson (whose marriage to young, hunky actor Aaron Taylor-Johnson, 23 years her junior, is intriguing) has managed to undercut the absurdity inherent in onscreen erotica by being in on the joke.
A perfect example of this is the scene where Anastasia and Christian have a "business" meeting to negotiate the dominant-submissive contract Christian wants Ana to sign. Ana directs him to page 15, codicil 12 (or what have you) where she asks him to cross out "Anal F#sting" with just the right amount of whimsy.
(I never thought I would write a sentence encapsulating all three words. Anal. F#sting. Whimsy. But there you have it.)
Don't get me wrong, there was certainly a fair amount of tittering in the sardine-boxed audience, but they were laughs Taylor-Johnson meant to get.
And admittedly I had moments of painful embarrassment while watching what amounted to soft-core porn sitting next to a married couple pushing 70.
But despite this, I was surprised by how the psychological underpinnings of the sex scenes, what it means to be dominated by someone you trust, lingered well after the curtain fell, and how this catalyzed my curiosity about stepping out of routine sex and broadening my own horizons, but only with my husband and now, unequivocally, when our children are NOT at home.
The only conundrum being, where to hide the dungeon? Hmm.
Have you seen the movie? Did you love it? Hate it? Am I loca?
---
---