Her Mother was "Difficult" with a "Dollop of Crazy" and Achingly Missed this Christmas
Okay, who here has had a fight with a family member this holiday season? Anybody? Anybody??
Oh, look at all those hands. I count 6,363,247 hands in the air. I'm no different. I had an unexpected row post-Thanksgiving with a loved one where the past was rehashed, shins were kicked and feelings mangled.
As I carried a load of shopping loot through the Westfield mall in Century City I felt this heaviness on my heart as Christmas approached and realized I'd rather be happy than right.
I called my loved one and made amends. I worried I would feel like I'd sold myself short, instead I felt a wave of relief that I'd laid my weapons down, they'd only been holding me hostage. Hurting someone we love just ends up hurting us.
Which leads me to my lovely friend and writer par excellence, Colette Sartor who recently participate in my #LoveYourBodyNow series.
Colette has kindly allowed me to re-publish her sometimes challenging love affair with her recently deceased mom, who she misses so much this holiday season. You're in for a treat. Colette writes:
Holidays have never been easy in my family. Emotions run high, grudges resurface, nasty disagreements are aired in all their screaming glory.
This year is quieter than usual, yet I'm finding this holiday season harder to bear because my mother isn't around to tell me to snap out of my bah humbug blues and enjoy myself, god dammit.
She was usually that direct. She was also usually holding grudges, throwing fits, making the holidays a fucking misery over something as simple as a forgotten card.
She was obsessed with cards, wrote long, heartfelt notes in her illegible scrawl to each of us, and got furious if we didn't reciprocate with something equally heartfelt. Which we usually didn't. Our reluctance probably had to do with her other obsession with typing up ten page diatribes whenever we really pissed her off and then making us listen as she read them aloud until we begged to be punished instead. No one was exempt. I wouldn't be surprised if she even wrote a few to the dog.
She was difficult, my mother, more than a dollop of crazy, a whole heaping spoonful of infuriating. But she was also brilliant, funny, big-hearted, generous to a fault.
She died a year and a half ago. She was seventy years old. Her death felt sudden, though it really wasn't. She'd been heavy for so long, incapacitated by her obesity.
By the end, her she could barely leave the house. Her weight and illness defined her. Yet it wasn't until the last few months of her life that we really lost her, when she fully succumbed to the pain that plagued her. She put on a pretty damned good game face for a long, long time. Especially during the holidays.
She loved holidays, any holiday, though Christmas was her favorite. She hauled out the decorations soon after Thanksgiving and decorated every nook. By the time she died, she had filled most of her 2,000 square foot basement with Christmas stuff: boxes and boxes of ornaments, nutcrackers as tall as toddlers, giant Santas dressed like royalty, an exquisite ceramic crèche set flanked by miniature fir trees. She even had a full-size wire sleigh drawn by wire reindeer, tricked out in sparkly lights and displayed on the front lawn. And the gifts. 
They were everywhere.
She kept extras in the closet for anyone who stopped by, passed them out at her hairdresser's, to the mailmen, garbage men, bank tellers. Anywhere she frequented throughout the year, she brought gifts.
When my brother, my twin sister, and I were little, Christmases were much less extravagant. Before John was born, Dad was a graduate student in chemical engineering at University of Michigan, doing nuclear research on a National Science Foundation scholarship. Mom taught sewing on the side while taking care of me and my sister. 
They were in their early twenties and didn't have much. They used lawn chairs around the kitchen table, had a single crib for us two (since we were supposed to have been one big baby boy, not identical twins, which is a story for another time).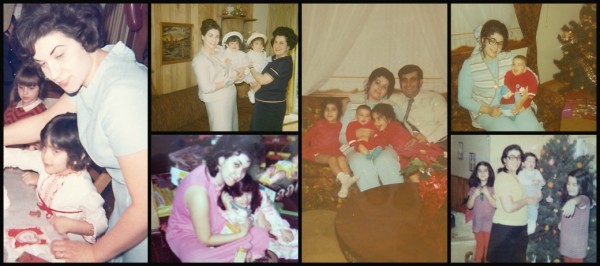 Still, Mom made Christmas special. She sewed cloth ornaments that she stuffed with cotton and decorated with rhinestones and glitter; she wrapped thread spools with brightly colored yarn and topped them with match sticks to make drums for little drummer boys fashioned from clothespins and felt.
Our presents were simple but memorable: plastic telephones with rotary dials and purple receivers that we used to call Santa himself; Fischer Price Weebles that we spent hours trying to make fall down; dolls with long gowns and luxurious eyelashes who eventually were dubbed Dirty Dollies since we dragged them everywhere and screamed if someone tried to take them away, even to wash them.
Mom kept those distant Christmases alive for us.
Every holiday she hauled out photo albums filled with old Christmas pictures and told stories that we'd heard over and over and begged to hear again. "This was in Michigan," she would say, pointing out a photo, "when you were two and Daddy used toothpicks to keep the legs on the kitchen table until the year the toothpicks broke and the legs fell off and the entire dinner wound up in our laps." She'd turn another page. "This one of Johnny crying, that's the year he got coal in his stocking for a joke. And look, Dirty Dollies. One Christmas we were flying back to Jersey and you left Dollies in the airport and the pilot made me get off the plane to find them because he couldn't stand hearing you scream the entire flight."
I don't have those photo albums this year, my second Christmas without my mother. They're someplace in my parents'–my dad's–house.
The only photos I have left from holidays past are the few my sister and I scanned right after Mom died, for an iMovie for the wake. So I looked through my own holiday photos from the last ten years since my son was born. I searched for pictures of my mom. There were only a handful. The older she got–the heavier she got–the more she hated having her picture taken. But she looked happy in those pictures. Excited for the holidays.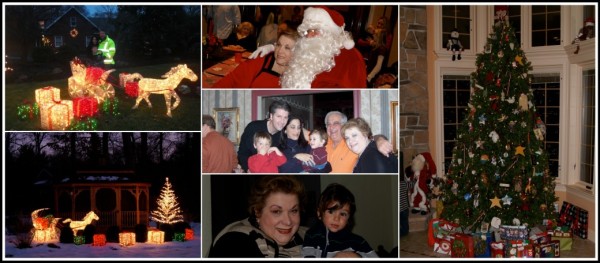 There wasn't a hint of her constant physical pain in those pictures, of how she couldn't get anywhere without her walker, of how she had to stop midway through her own house to catch her breath. How she slept in a recliner chair every night because the weight of her body on her lungs made it difficult for her to breathe lying down.
Instead, at the holidays, she showed her game face. She showed us the woman she was before illness subsumed her, the woman whose laughter was always the loudest in the room, who could tell all the old family stories that we'd heard a thousand times and still captivate us.
The first Christmas after she died, we were all numb with shock. We decided to spend the holiday together. My dad had someone else decorate the house. (He was never one for decorating, or helping out much during the holidays, much to my mother's fury.) My sister and I and our families flew in from California, opened gifts from under the tree hung with the ornaments she had collected over the course of fifty years. We spent Christmas day with the extended family at my brother and sister-in-law's house, opening gifts, eating too much, drinking too much.
It all felt hollow. Mom wasn't there. How could she have died? How could she have let it happen? How could we have let it happen?
There were arguments that first Christmas, hard feelings, grudges held for months. She would have refereed, gotten us to tell her things that she'd pass along to the other party until we were all talking again. She could hold a grudge herself, but she hated seeing us fight with each other. We needed to be a family. We needed to stick together. She demanded it. She knew that's what was best for us.
Now it's our second Christmas without her. We're still numb. Still dumbfounded at our loss. Our lives are quieter without her, without her anger and her fears and her insecurities; without her big, raucous laugh, her head and heart full of stories, her determination to make each holiday memorable, each celebration something that drew us closer, reminded us how important we are to each other. Kept us a family.
Circumstances have kept us separate this second year. My brother, my sister, and I are each with our own immediate families. My father is with his brother. We aren't fighting, we aren't holding grudges (not much, anyway), but we are adrift without her.
We won't stay that way. She didn't raise us to give up. We'll figure out how to move forward as a family, how to cherish our time together, to remember who we are to each other. Family is everything. She taught us that. She also taught us to never, ever forget, not her, not our love for each other, not the big, noisy, exuberant celebrations that should mark every holiday, every family gathering. Because every family gathering is worth celebrating.
She taught us that. And more.
Do yourself a favor and take a trip down Colette's website. So many gorgeous images and glorious stories. You can follow her on Facebook and Twitter too. Until we meet again. xo S
---
---