8 Picks for Best and Worst Movies of 2014. And my Oscar Predictions!
1. Do not, I repeat, do not go see Interstellar.
Don't see it! Because the time continuum — on which relativity, gravity and the unquantifiable algorithm of love is unspooled by that easy-on-the-eyes Texan, Matthew McConaughey, as he goes on ahead into outer space just as nervous-as-a-cat-inna-room-fulla-rocking-chairs and gets busier-thana-cat-coverin'-shit-onna-rockpile tryin'a get back home to his kin — makes no fucking sense at all!
Then suddenly Matt Damon shows up and he's as greasy-as-fried-lard, and beats Matthew like a redheaded stepchild on a frozen planet whilst the black holes and those gulderned worm holes are colder than witch's teats and things get even more confusing.
It's three hours of your gulderned life you're gonna want back. Now go grab me a cold one!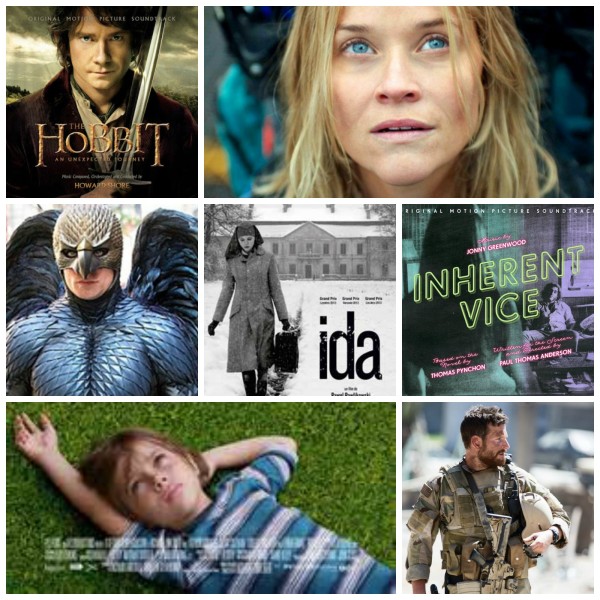 2. Do not, and I repeat once more, do not go see Inherent Vice. 
Because as genius as Joaquin Phoenix is at slipping into the skin of each character he plays and as fan-freaking-tastic as it is watching that terrifying, yet somehow vulnerable Josh Brolin eat marijuana paper and ashes out of an ashtray the size a of flying saucer, this movie just has too many characters, story lines and red herrings. It's impossible to follow them all and the film ends up amounting to nothing more than a "patchouli fart" (best line in the movie).
Also the film captures 1970 to perfection which, for me, is NOT a good thing. The polyester, the hippie stench, the wife swapping, the loagie drug trips. Walk away, people.
3. America Sniper is good-ish, but not great. 
Bradley Cooper is more than fine playing the deadliest sniper in American history, Chris Kyle. But it's difficult to root for such a recalcitrant, largely mute man.
Depending on your politics Kyle is either a hero who did everything in his power to keep "his boys" safe or an adrenaline junkie who had an incredibly hard time coming home. The film tries to have it both ways, but misses the intricacies and dichotomies in the character leaving us with something neutral and neutered. I think the blame for this lies on Clint Eastwood's direction, rather than Cooper's performance. Directors like Julian Schnabel with The Diving Bell and The Butterfly have found effective ways to get into the heart and head of insular characters, Eastwood does not.
As war movies go this one also didn't have the adrenaline-pumping, edge-of-your-seat, heart-pounding cinema verite of say, The Hurt Locker or Black Hawk Down or even the mostly forgettable Lone Survivor. 
4. The Hobbit: The Battle of Five Armies is a tour de force, but with one (not insignificant) flaw. There be spoilers ahead. Read at your own risk.
I love J.R.R. Tolkein, having devoured The Hobbit not once, but twice, in 6th and 7th grades, and I think Hobbit (Lord of The Rings) director Peter Jackson and writers Fran Walsh and Phillippa Boyens have done Tolkein more than proud.
The Five Armies is yet another gorgeous feather in their cap; with battles so exquisite, so electrifying I forgot to breathe. The set design, clothing design, monster design, everything design is beyond words.
But. Yes, there is a but. I think there is a rather large gaffe in the storytelling of The Hobbit, which is to say that the central character in the book, hobbit Bilbo Baggins, is not really the central character in The Hobbit film trilogy. His hero's journey is shared with King of the Mountain and leader of the Company of Dwarves, Thorin Oakenshield.
In the book Thorin plays an important role, but the purpose of his story is to be just a part of Bilbo Baggins's hero's journey.
In the film, Thorin's story becomes a more compelling character than Bilbo and ultimately overshadows the hobbit's story and character evolution.
Thus when Thorin dies at the hands of orc leader, the terrifying Azog, it feels as though the heart has been cut out of the film. That while Bilbo is lovable and has certainly come a great distance from Bag End, his journey is dwarfed (couldn't help myself) by Thorin's.
Go ahead, let the pummeling (of me) begin.
5. Do go see Wild with Reese Witherspoon.
Yes, I'm a book group kinda gal. Which means I've read The Red Tent and Reading Lolita in Tehran and The Secret Life of Bees and Cheryl Strayed's Wild. 
I know this is heresy and some fellow mom is going to try to drown me in a vat of merlot, but I didn't really care for Strayed's book. Intellectually I got it. Woman grieving her mother starts shooting heroin and cheating on her long-suffering husband with a slew of bad boys and must go on a hero's journey, hiking 1,100 miles on the Pacific Crest Trail crushed beneath a backpack she calls The Monster. But somehow Strayed's prose left me cold.
Not so with the film. From the moment Reese Witherspoon throws her too-small hiking boots into a ravine with a primal scream I was hooked. Reese is back and better than ever. She's a much edgier, darker version of the Strayed in the book. She seems just as wild as her surroundings and more than equal to them.
Director Jean-Marc Vallee (late of The Dallas Buyers Club) seamlessly and unselfconsciously integrates flashbacks of Strayed's life; the death of her mother and her self-destructive descent into drugs and promiscuity, with her present day trek.
My husband commented that the use of audio was seamless as well. I wouldn't have noticed it had he not pointed it out, but Vallee's use of sound encapsulates the movie in a single, unbroken dream. This one is a must-see.

6. Boyhood by Richard Linklater is one of the best films of the year.
The film follows the life of one boy, played by one actor and was shot over a twelve-year period. It was fascinating to see the seeming time-lapse photography of actor Ellar Coltrane/character Mason Evans Jr.'s lives unfold onscreen.
Mason comes from a broken home and we watch his now-separated parents (Patricia Arquette and Ethan Hawke) fumble their way through adulthood and see how each of their trajectories affect and influence this one boy's life.
As a child of divorce this film touched something inchoate and native inside of me. And Coltrane's performance throughout is sensitive and brimming with natural intelligence.
7. Best film of the year, The Birdman.
I love nothing better than an underdog and a comeback kid and Michael Keaton as the title character, Riggan Thomson, in The Birdman is both.
Much like Mickey Rourke in The Wrestler, this role has catapulted Keaton from Siberia back into the race. He's just as quirky, eccentric, manic and maniacal as he's been in his best roles (Beeteljuice, to name just one), but he brings with him to the role of a washed-up actor best known for his portrayal of comic book superhero Birdman a heretofore unseen vulnerability. Keaton's Riggan is the Willy Loman of celebrities, always seeking to recapture perceived former glory.
And don't even get me started on director Alejandro Gonzalez Inarrito's (21 Grams) achievement, shooting the film in seemingly one long, continuous shot scored by a drum solo, intermixing reality with magical realism, each of these fencing the other throughout the film.
And then there's Edward Norton as a galvanizing, narcissistic method actor who practically steals every scene he's in. My absolute favorite film of the year thus far.
8. Best foreign film of the year is Ida (Poland/Denmark)
It's 1960 and a young Polish woman/orphan, Ida, must meet her family before taking her nun's vows.
In doing so she discovers she's of Jewish descent and that her parents and brother were exterminated during World War II. She embarks on a journey with her hard-drinking aunt, whose son was killed alongside Ida's family, to find their remains.
Where to begin to describe what I think is a masterpiece?
Shot in black-and-white the film is stark, bleak, with minimalist acting. Each shot is composed like a photo you might find in the yellowing pages of an Eastern-European, communist-occupied long-lost family photo album, with the primary object of the photograph placed in the far, upper right-hand corner of the frame.
While the film and performances are stylistic, the overall effect is a burgeoning emotion that builds to a crescendo when one of the film's lead characters does something entirely unexpected and shocking as if she were simply taking out the mail.
This film stayed with me for days and the images will live in me always. An absolute must-see film. Especially for anyone who is passionate about the fallout from World War II.
Other honorable mentions:
Gone Girl — a stretch in believability, but Rosamund Pike will scare the bejesus out of you. Nightcrawler — dark, creepy, slimy fun. Hateship/Loveship — a surprising character study starring Kristen Wiig in a fearless performance. Still Alice I looooved this. Julianne Moore's best performance to date and so gorgeous. I even liked Kristen Stewart inexplicably. Foxcatcher – warning, incredibly depressing. But unbelievable transformations for Steve Carrell, Mark Ruffalo and the surprising heartbreaking Channing Tatum. These roles are an actor's wet dream (for lack of a better analogy.)
Not so great: A Most Violent Year. This character study fell flat. A man who struggles not to become a gangster doesn't become one. A little boring. Unbroken – It was exactly what I thought it would be, formulaic victory over the dehumanization of war. Meh.
What I still want to see: 
The Theory of Everything, Whiplash. Have you seen any of these and which would you recommend?
What I really don't want to see:  
Into The Woods (I still haven't recuperated from Les Miserables or Anne Hathaway — who is also in Interstellar, ack.) and Annie (which I know I will have to see thanks to kids).
Update: My Oscar Predictions! (keep in mind I have not seen The Theory of Everything or Whiplash)
Best Picture: I think it should go to Birdman, but I suspect Boyhood will win given it's extraordinary 12-year shoot.
Best Director: Again, I think it should go to Alejandro González Iñárritu for Birdman, but suspect it will actually go to Richard Linklater for his formidable accomplishment in Boyhood.
Best Actor in a Motion Picture: It has got to be Michael Keaton for Birdman and I think he deserves it. Plus Hollywood loves nothing better than a comeback kid.
Best Actress in a Motion Picture: I think Rosamund Pike of Gone Girl is going to narrowly beat out Julianne Moore of Alice. It's going to be a close one because Julianne Moore's body of work is astonishing and she's been nominated for an Oscar 5 times with no win, but Pike's performance was incendiary, bold and ground-breaking.
Best Supporting Actor in a Motion Picture: I haven't seen Whiplash, which has received rabid praise, so I'm not familiar with J.K. Simmons performance. Having said that my favorite by far of the remaining contenders is Edward Norton in Birdman. From the moment he walked on screen and took charge of rehearsals his performance was raw adrenaline, machismo with a dollop of lunacy. I fell back in love with an actor who hasn't been so brilliant since his turn in Primal Fear in 1996.
Best Supporting Actress in a Motion Picture: No one is going to touch Patrica Arquette in Boyhood. She's both vulnerable and fierce and, as always, natural, which is no easy feat.
That's all I've got. What are your predictions??
---
---