Patio For Women: Cool New App that Saves Men's Lives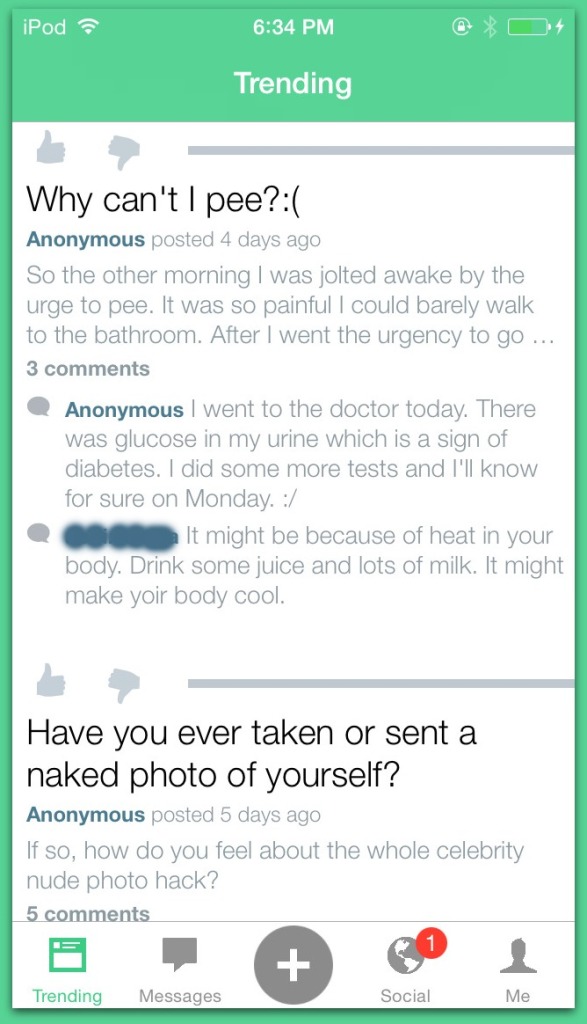 The other night I was lying in bed with Henry feeling a bit forlorn because I didn't feel as close to a good friend of mine as I used to.
Henry attempted to console me by saying, "You'll always have me." To which I replied without a moment's hesitation, "Yes, but I need women for intimacy!"
Henry didn't even bat an eyelash. Just pulled me into his embrace and said, "I know you do, honey."
Here's the deal, no man can complete me.
There's a large, woman-friend hole in my heart that needs to be filled because there's a kind of support women provide for one another that men just can't.
I remember feeling particularly lonely and isolated when I gave birth to my first child, Clare, more than 12 years ago.
The women I was close to at the time didn't have kids and my inability to do much more than sit my postpartum float parade body on a couch in order to breast-feed my baby kept those ladies at bay.
One day I stood outside the neighbors' house with my baby in her carriage trying to peer through their windows because I'd heard through the grapevine the woman had just had a baby, too.
That's when I met Mara, who came face-to-face with me through her dining room screen. She was holding her fat little baby, Charlie, to her chest.
Although she didn't know me from Adam she said, "Um, do you want to come in?"
Thus a friendship was born.
Three years later no one cried harder than me when Mara and her family moved away. I don't know why they thought it was okay to leave me for much better jobs and money. Bastards.
Since then I've made more mommy friends who come and go in real life. That's why starting this blog 4 years ago (just had my anniversary on the 18th! First post here!) I've found online friendships with women so supportive and powerful.
They can't go anywhere the web can't find them. (And you know who you are, don't try running away because google will find you!)
So when the lovely Jade Hoffman asked if I'd be interested in trying and hosting a sponsored post for her hot new app, Patio For Women, I heartily agreed.
I love Facebook and mildly loathe Twitter, but realized I love the idea of a space just for women.
With Patio For Women we of the fairer sex can connect across the web to share information, jokes, challenges, success stories, dark nights of the soul and friendship.
So let me just cruise around the app on my phone right now and give you a few headlines of chats happening in real time!
Why Am I Tired? is trending. This lady seems to be surrounded by emotional vampires and is getting quite a bit of advice and sympathy from her patio friends.
Let's see, what else. Ooh. Breakfast is Served! Clicking on photo. I am seeing some delicious chilaquilles. Mmm.
Here's another one. Someone's boyfriend is in jail and she asks if anyone else has been through the same situation? And two ladies have. They're discussing and I, admittedly, am stalking. Shh.
Here's one I must read. It's titled Sexy Underwear. This woman wants to end her relationship with Victoria's Secret and is asking for more options. She has several responses. I am taking notes. Be right back …
Okay, just got back from buying a black widow corset at Fredericks. We can continue.
I Want a New Life is trending. And now we have Why Can't I Pee? Why can't she pee? Must go find out.
Oh dear, some woman just found an open condom in a room she shares with her boyfriend and they don't use condoms. Crap!
That's my little snapshot of the Patio For Women app. As you can see it does something other social media sites don't do. It gives us the kind of intimacy women enjoy with other women and men find inexplicable.
Let me know if you already have the app and how you use it! I'm off to bulk up my profile to meet fellow wife dominatrices. xo S
Follow this app @patio4women!
---
---