I'm in Love With Chef Melissa Mayo! She Reveals her "Lose the Fat, Not the Flavor" Secrets!
Chef Melissa Mayo is not only a culinary master with a six-pack, she's also one of my dearest friends. I first laid eyes on this South African firecracker at a Music-and-Me class with our then-infants Jade and Bridget. For me it was love at first sight.
Shortly thereafter I signed up for all of her cooking classes in order to stalk her more freely. Not only did I get to gaze upon her gamine beauty, but she also taught me how to kick ass in the kitchen.
By the way, this is NOT a sponsored post. I'm writing about Melissa because you guys need to know about her! But she's mine, so don't get any funny ideas.
For this post Melissa's been kind enough to share her healthy shopping list with us. One of the things that stops me from cooking healthy meals is never having the right ingredients on hand, so I just end up eating all of the Halloween candy by October 20th.
First I'm going to treat you to a video of Melissa sharing her personality, cooking philosophy and one of her healthiest meals. Below that I'll post her foolproof (meaning Shannonproof) healthy shopping list for the pantry and beyond. Be sure to print it out for the next time you're heading to the grocer's. xo S
Melissa's Pantry Shopping List
Olive oil  (one for cooking & a good extra virgin for dressings)
Balsamic , red wine & apple cider vinegar
Coarse salt and Ground black pepper
Basic dried spices … you can buy a complete rack where most of these will be included(cumin, ginger, basil, oregano, cinnamon, nutmeg, coriander, curry, thyme, rosemary, mustard, dill, chilli flakes,  paprika, fennel seeds, sage, poppy seeds)
Assorted citrus- lemons, oranges,
A mix of nuts- almond silvers, walnuts, hazelnuts, pinenuts
Assorted dried fruit- cranberries, figs, dried cherries, dried apricots
Garlic
Canned tomatoes
Chicken stock powder
Tinned tuna
Tinned anchovies
Black olives
Green olives
Honey
Brown sugar
Red wine/white wine
Pasta  (spaghetti/ penne)
Rice
Cous cous
Quinoa
Sambal chilli
Woestershire sauce
Ketchup
Mayonnaise
Dijon Mustard
Pickles
Sundried tomatoes
Soya sauce
Tinned artichokes
Tinned beets
Tinned hearts of palm
Weekly Healthy Shopping List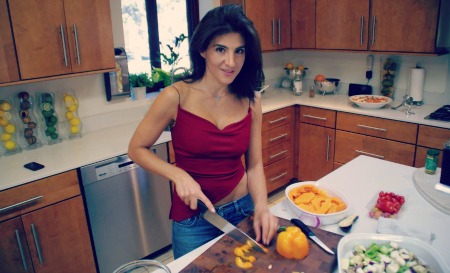 4 bags of lettuce ( butter, spring mix, romaine,  arugala)
2 Red onions
Pack of Persian cucumbers
Mini peppers
Baby tomatoes
Vine tomatoes
Bag of 4 avos
Carrots
Beets
Yams/sweet potatoes
Ginger
Assorted cheese (feta, goat, parmesan, mozerella)
eggs
chicken (whole, boneless breat, boneless thighs, precooked roast chicken, saugages, smoked turkey)
meat (mince, lamb chops, steak, tri tip, hamburgers, skirt steak, pastrami,short ribs)
fish (salmon, shrimp, tilapia, cod, tuna, halibut)
Fresh herbs (Basil, Italian parsley, Rosemary, Mint)
Green/red apples
Assorted citrus (lemons & oranges, grapefruit)
Grapes /Pears
Other fruit only if it is in season (peaches, nectarines, figs, persimmons, mango, pineapple)
Berries that are in season
Zuchinni, eggplant, yellow squash
Green beans/asparagus
Broccoli/cauliflower
mushrooms
Greek Youghurts
Milk 1%
Bread
Other tips from Mel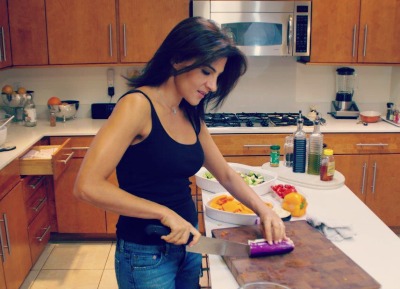 Break a sweat once a day even if it is cleaning house 30 minutes of cardio/stretching do wonders for you. It is the oxygen that helps elevate your mood and release toxins
5 small meals a day
Never go to the store hungry
Drink 2 litres of water… most times you are hungry not thirsty
Chew your food
Keep a bag of nuts & cranberries on you
Portions size is key
Try to eat off a smaller plate / fill most of your plate with greens
Stop eating when you feel full
Better to eat full fat full cream stuff in smaller quantities than low fat/fat free stuff. Usually they have more sugar and preservatives
Citrus and fresh herbs flavor a meal without adding calories
Plant a herb garden
Own a good chef, paring serrated and santoka knife
Always let meat and chicken rest for 5 minutes before cutting
Don't turn meat to much when grilling
Roasting, grilling and searing , broiling, steaming and blanching are healthy cooking options
Have a plate of fresh cut fruits and veggies at the front of your refrigerator or on the counter. You will be more likely to snack on these instead of junk food
Dark chocolate is great for you
A glass of red wine helps keep your arteries clean and it is loaded with anti-oxidants
Portions size is more important than what you are eating
Never use the word diet.
Cardio can sometime make you more hungry so you over eat
Protein portion size – the size of your palm
Olive oil and avocados are wonderful fats
Never over cook vegetables… they taste better crunchy
You are only one meal away from being back on the program
When eating out ask the waiter if you can take half your food home before he brings it to the table
Colorful food makes you feel more satisfied
 If you want to stalk Melissa too, here's a link to her blog with several of her recipes. Bon Apetit!
---
---