Empty Nest = Sex in Strange Places?
Sex on the dining room table had never been so raw, because Henry ate fresh sashimi and unagi off of my pendulous orbs of alabaster breast flesh, his steel-hewn thighs thrusting my sinewy ones open as he positioned himself in a Shiatzu, chakraharian plank above me, poised to penetrate me with his magnificent, throbbing, colossal … okay. Let me just stop right here.
None of that happened.
Instead we sat at our marble dining room table from furniture in fashion bought for us by my friend, eating dinner alone for the first time since our eldest daughter was born 12 years ago. The silence was deafening. The house bereft. Inconsolable.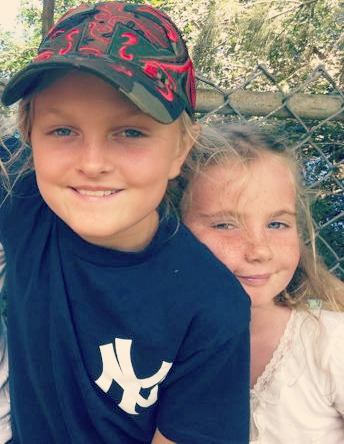 You see, for the first time our daughters had gone to stay with their grandmother for eight whole days. Eight of 'em. In a row. (It took this long bc we're helicoptery – you may judge us)
I was so sick of parenting by the time I pulled up to my mom's house to drop them off that I slowed the car down to approximately 5 mph and just sort of pushed them out.
But, back home things just weren't going as expected.
I didn't feel foot loose and fancy free.
Shopping, wining and dining felt like distractions, not the main event.
Henry and I weren't bonding in or out of bed (or on the dining room table for that matter). And our attempts to do so felt forced.
This is what it will feel like when they grow up and move out! I thought. Followed quickly by, They can never move out! That guy and I have nothing to say to each other without them. Who is that guy?
I had absolutely no idea how central to my life being a mother had become. WTF?
I have dreams, goals, desires that have nothing to do with my children, yet the thought of achieving those things without my daughters there to share in them seems to rob them of their meaning.
Who cares if I'm a New York Times best-selling author if I can't use that money to take my daughters to some far flung corner of the earth to experience and share?
Who cares if I become a dating guru (my next frontier) if I don't have my daughters there to mortify?
Who cares if I take the leap and become a geriatric ballroom dancer if I don't have my daughters there to impress?
I love my husband. More than ever, actually. And we didn't feel empty in our lives before kids. We had a lot to talk about, trips to take, love to make.
Then why, with our daughters gone for only one week, does it feel like suddenly the two of us just aren't enough?
And will we be able to regain our rich coupledom when they do finally depart?
This is not a rhetorical question? Empty nesters how do you do it? How do you get on with life after kids and find meaning again?
Lucky for me my girls are home now and I have some time to figure this out since they're only 10 and 12.
As I type this they are arguing in the next room. I thought I just heard a smack and someone call someone else a "bitch."
After their absence even their assholicry seems poignant to me.
What did you do when your kids left? Because I'm leaning toward senior stripping. Help?
---
---