Are Big Breasts Tastier than Intellectual Breasts?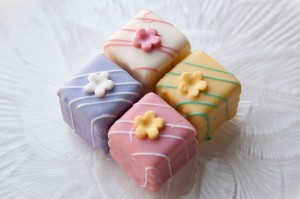 My lovely guest poster (is that a word?) today, Carol Cassara has strong opinions about the value of plastic surgery.
Although I could very well have been one of those unfortunates with plastic surgery gone wrong, I love my results.
Yet I still agree with so much Carol says. She writes:
"These beautiful petit fours are a small work of art, aren't they? Just gorgeous. Fondant helps make any confection a work of art.
But, it doesn't taste so good.
In fact, as much as I like the way petit fours look, I think they taste awful.
And I wonder how many people think these things are delicious just because they're lovely.
There's a greater meaning here, and you can see it in what's happening to the world around us, a world in which cosmetic enhancement is so valued.
How many times have we heard this justification for cosmetic surgery:
'If it makes you feel better about yourself, I think it's fine.' Always be sure to entrust yourself in the hands of a fully qualified cosmetic surgeon, someone like Lisa Rush for instance.
What makes me crazy is the idea that our view of ourselves–our self-esteem– is dependent upon how we look and not who we are.
If it takes bigger breasts to make a woman feel better about herself, I despair for the future.
How often do we hear of women enhancing their self-esteem by taking a history course? Learning a language? Or taking woodworking?
Not often. These days, it's all about how we look and not who we are.
It's about what's on the surface, not what's inside. Kind of like a petit four.
Now, I like a great-looking man with a killer body as much as any woman. But it's been my experience that men who are overly-attached to how they look sacrifice substance. There's nothing else there. Not always. But many times.
So it's not just women. LA
The irony hasn't escaped me, either. While the Boomer generation spent its youth fighting for equal rights of all kinds, at this stage in our life we're consumed with superficialities. We went from having lofty ideals to…
face lifts and breast surgery. Although there is nothing really wrong with plastic surgery, it's the reason you want to do it that makes it important, it also helps to have all the information before you decide to do something like that, for example, you might be interested in reading up on the procedures on somewhere like https://rhinoplastysurgerynyc.com/ to get a better understanding of what you're going to get yourself into.
We were going to remake the world. So: how the hell did we come to this?
I bemoan the loss of our ideals: that search for a greater purpose. The devotion to higher principles and a common cause. Activism and involvement in the world around us.
Nothing wrong with liking how things look. But when we focus on form over substance — if that gives us our sense of self-worth — then something's gone wrong.
So, I may look at a petit four and admire it, but I won't be taking a bite any time soon."
Readers, will you share your plastic surgery stories? The Good, The Bad and The Ugly? for people considering those options.
Carol Cassara blogs daily on creating our best lives at http://www.carolcassara.com. She's been writing professionally since she was 16-years-old and can't seem to stop. When not at her keyboard, she and her first, ex- and now, current husband (all the same person) are traveling to exotic and interesting places. Or playing with their seven-year-old maltipoo, who refuse to believe he's not the center of the universe.

You can find her on Twitter @ccassara and you can Follow her on Facebook.
---
---