I'll Be Interviewed Tomorrow on HLN's "Raising America with Kyra Phillips"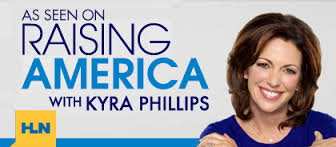 Hi guys — When I went to the Mom 2.0 conference in Laguna this month I had the good fortune to meet Kyra Phillips and some of her producers at Raising America and now have the opportunity to be on a panel about date rape which will air tomorrow on HLN at 9 a.m. Pacific time and 12 p.m. Eastern time.
The Steubenville rapes have brought date rape back into the news (unfortunately) and my post It Happened To Me: A Letter To My Daughters About Date Rape seems applicable in this moment.
I've begun carefully discussing what rape and consent mean to my own daughters, who are 9 and 11.  I know this is controversial as many people think they're too young to digest these kinds of conversations.  But I think childhood innocence is overrated.  I try to inform, not frighten.  I may err on the side of too much information because of the violent, attempted date rape I endured.  But I want to prepare my daughters for the time when they're no longer under my supervision and I want to foster an openness and trust between us so they can come to me with any questions they may have, or turn to me for help should they need it.  I don't know if I'll be successful, but it won't be for lack of effort.
---
---