71 Dresses in 71 Days: Week 9
Oh when will this odyssey of pinafores cease?? Why did I buy 71 dresses? Am I the Queen of Marrakesh?
This is my pen-ultimate week of wearing every single one of my dresses before I may purchase anything for myself.  However, this week I have a confession to make.  I have not completely failed, but I have failed a little.  It should be noted, however, there was a villain conspiring against me.  Foresooth, my evil mother …
Yes, my mother gave me a gift card.  What the hell is wrong with her?  Doesn't she know that, for me, walking into Anthropologie is like Charlie Sheen walking into a Catholic high school for girls?
That gift card never left me alone for a minute.  It whispered at me every night, "I could be worth 200$, maybe more since you're such a wonderful daughter who never writes confessional pieces about her childhood in which your mother is frequently the scapegoat.  No, no!  You are beyond reproach, much like Mother Teresa during her menses.  When she was alive."
Alas, I listened to that gift card voice emanating from my wallet and indeed found myself breaching the walls of the nearest Anthropologie on Beverly Drive in Beverly Hills yesterday.
I went straight to the checkout counter and handed them my gift card.
"How much is on it?" I query, lips atremble in anticipation.  Swipe, swipe, swipe.  "I can't seem to read it," murmurs the checkout girl.  Thinking fast I hand her a pair of piquant reading glasses from a nearby display, "Please," I beg, "Try again!"
"Oh!" she says pleasantly, "It says here you have fifty dollars on this gift card."
"Fifty dollars?  Are you sure?  Isn't there an extra number missing?"
"No.  No, it's fifty."
How could she say this so casually?  As if it were nothing!  Next time she tries to board a plane to Marrakesh I'll stop her at the gate, take her ticket (because I'll have become a stewardess in order to enact this revenge) and say, "I'm so sorry, this is a ticket to Bakersfield."  After which I'll cackle insanely and until the end of time.
Fifty dollars.  Okay, I'm sure I can stay within that limit.  (Addiction lies, people.  It lies.)
You can imagine what happened next.  I almost broke both of my forearms by draping three treasure chests full of dresses over my arms before I managed to scale the stairs to the dressing rooms.
My name was already on one of them, scrawled across a tiny, bevelled mirror.  "Shannon," it said.  I felt so special!
And hence my changing orgy began.  Dresses all beyond the 50$ price tag.  This is where a little voice begins to whisper, "It's okay if you buy a 118$ dress, because it will really only cost 68$ which is almost nothing at Anthropologie and you haven't purchased anything for yourself in SIXTY DAYS!  How often does that happen?  Never!  That's how often."
There was good news throughout all of this, which was that I looked horrible in almost every single one of those dresses.  In many my hips seemed broad enough to hoist the Titanic from her depths.  In others there were tummy rolls on top of my tummy rolls.  In even more there was a strange fleshiness heretofore unseen protruding from my armpits.  What the hell is that?
I walked out of Anthropologie carrying with me one dress.  The dress cost exactly $68 dollars, which means I spent 18$ on  myself.  I know.  It's not bad, yet it is a sign that when you give me a gift card it should be for at least 100$ (take note the next time you want to send me money).  Because this is someone else's fault.  Certainly not mine.
I have eight days left of my #71dressesin71days No-Shopping project.  In penance for my relapse I will be giving away an extra dress.  Bringing my dress donation total to 11 dresses.
Let me know which one of the next seven dresses I should donate or possibly smother myself with.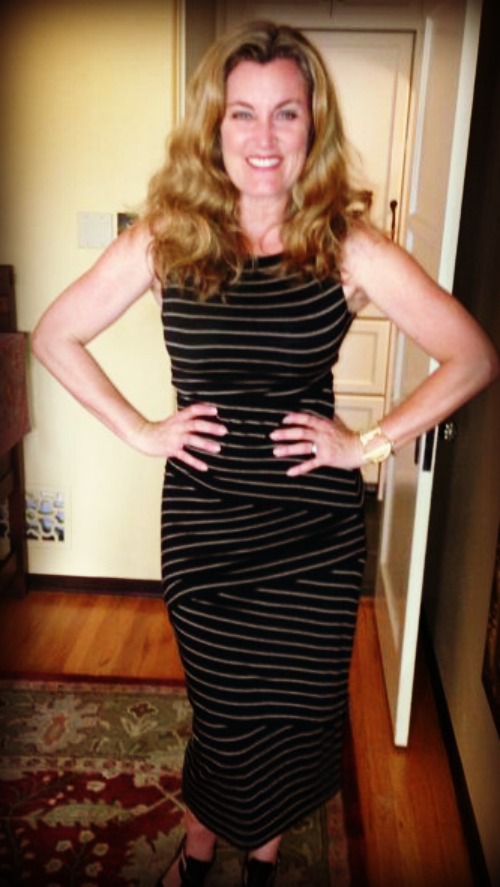 Dress #62. This Anthropologie dress is one of my favorites. I don't know how they did it, but they made these horizontal stripes slimming?? Or I'm on crack.
---