Dress #6: 71 Dresses in 71 Days
Here's how I added this one to my collection: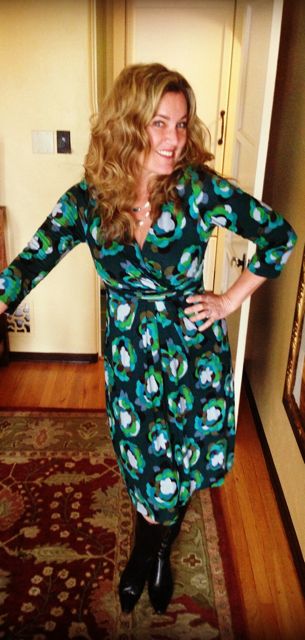 Every Christmas I take a couple of catalogues and circle some of the things I like and give the catalogues to Henry so he'll know what to get me. He asks me to do this even though I'm really low maintenance and would be happy with whatever he got me (as long as it fits, is pretty, slenderizes, creates the illusion of dewy youth and articulates the hollows of my clavicles).
Every year Henry sits me down, looks me in the eye and says, "So when you say you don't want me to spend a lot of money on you this Christmas, what does this mean? I mean, does it mean you don't want me to spend more than say, 500 dollars? Or 300$ Or 100$. I mean what specifically do you want me to spend?
"And when you say you want me to only pick a few of the things you circled in these catalogues – and you circled 20 things – does 'a few' mean more than two or does it mean less than 20?
"And when you say you'd like one of those items to be a piece of jewelry do you mean a piece of jewelry that — if you lost it —  wouldn't be a big deal? Or do you mean a piece of jewelry you can leave to one of our daughters when you die (not that I want you to die, you must live forever).  Because this would mean I'd have to buy two of the nice jewelry items since we have two daughters whose psyches we don't want to scar through preferential treatment.  And I don't think I can get two, or even one, without spending more than $100."
So back to the green dress.
Last Christmas when my favorite catalogues came in … Boden, Anthropologie and Sundance (and this is not a sponsored post — I am supposed to NOT be shopping and those catalogues are Satan) instead of circling items for Henry to buy or not buy or be uncertain which to buy or to try to buy so late that they're all out of stock (which happens, Henry, when you shop on Dec 23rd) … I just went ahead and bought this green dress for myself for Christmas for Henry to give to me.
And two other dresses. Which you shall be seeing shortly.
And I was able to get this green dress for Christmas from Henry because I bought it in October when it was still in stock.  In fact, I shopped for Henry for me so early that I had to shop  for me from him again in December, since I'd worn this green dress that he gave me for Christmas several times before Christmas making it no longer a Christmas gift.
Yes.  I know.  I'm confused too.
---