71 Dresses in 71 Days: Dress #4
Okay. I didn't realize quite what I was getting myself into when I started this No Shopping project, 71 dresses in 71 days.  Now, on day 4, I realize I have to post every day until I've reached the end. Are my literary skills up to the task? Perhaps some orange vodka will help.  Be right back. … Sip sip … Better. I feel like Julie Christie in Doctor Zhivago. I just need a muffler.
So I threw a lovely birthday party for my gorgeous European friend Katy today which gave me an excuse to wear Dress #4: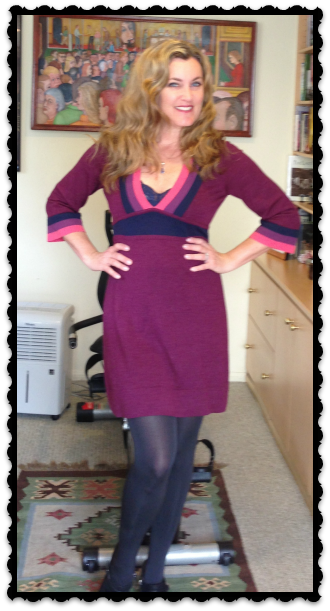 My daughter Clare, 10, took this. She knows now not to get too close and it's preferable if she stands on a chair. I didn't even have to ask her. The goal here is to wear all 71 of the dresses I own (yes, I'm the Imelda Marcos of dresses) before I shop again for anything other than groceries with which to nourish my family. On day four things are going rather swimmingly.
I haven't been tempted once to troll the online shops because I'm all dressed up with somewhere to go. Here.
There's something about dressing up that makes my life feel just that extra little bit more glamorous. Clare asked me the other day in a, I must say, disdainful tone, "Mommy, why do you always have to get all pretty." To which I replied, "Because it makes me happy."
I used to think wanting to look pretty was conceited and vain, but I'm now backing it like a presidential nominee in New Hampshire. I'm staring 50 down a loaded barrel and dammit I'm going down with a fight. As Cher once said, "My mama told me once I wasn't the prettiest girl on the block so I better make the most of what I had." I love that woman.
JOIN ME! Start your own No Shopping Project and send me your photos. I'll put them in galleries right next to mine. Here's my four day round up:
---
---