Who Shot Rock and Roll?
I'm not a rock and rolla. I don't go to concerts. I think I've been to twelve concerts in my life and one of them was Barry Manillow. Crowds and mosh pits terrify me. I don't like jockeying for position and I only like to do drugs if someone sweats them onto me. I'm profoundly uncool. I can vaguely pretend to be cool.  I did play the manager of a heavy metal band called Brunette in 1989 for a film called Smash, Crash and Burn produced by Roman Coppola. It was meant to be my rocket to Fame. Sigh. Here I am looking like a rock and rolla:
me-with-guitar-small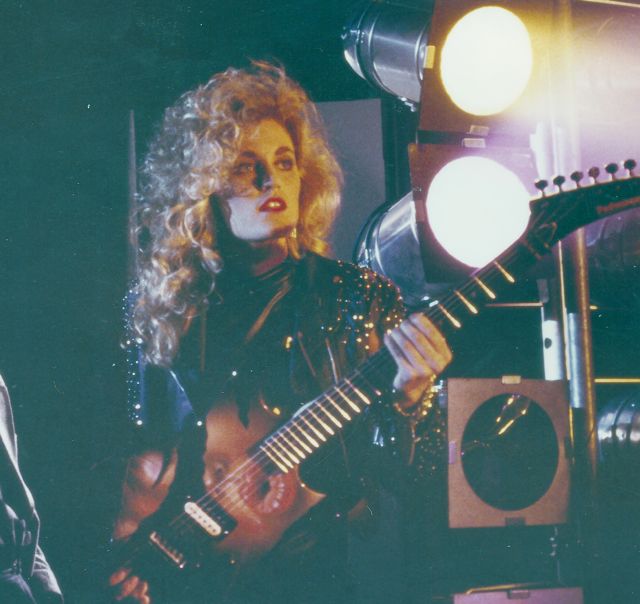 This post is not actually about me. It's about the Annenberg Space for Photography in Century City where their current exhibit is Who Shot Rock and Roll? And it is actually cool.  But I can't scrape any of their photos to put in a gallery for you as it would be copyright infringement and I don't want to taste the cold steel of the copyright police's weaponry against my tongue.
I hate museums almost as much as I hate concerts, but this exhibit was AMAZING (btw this isn't a sponsored post and guess what? Admission to this exhibit is FREEEEE!).
The Annenberg Space for Photography is housed in the Creative Artists Agency building (known by many people in "the business" as The Death Star). The museum space is serpentine and interactive. There are huge round sofas in the middle of a darkened room where you can sit and watch a riveting documentary about the rock-and-roll iconography created by the photographers who narrate the piece.
Linda McCartney met Paul because she photographed The Beatles on the road prior to their incredible success.  You are privy to the recollections of the photographers who traveled with The Rolling Stones, Jimi Hendrix, The Ramones, Bruce Springstein, The Doors, The Who, Joni Mitchell, James Taylor, The Sex Pistols, The Clash, Oasis, Blondie, Radiohead, Nirvana, The Red Hot Chili Peppers, Tina and Ike Turner before they hit and after.
The photographs in the exhibit are mind-blowing. They tap straight into the Id; both the dark and light. Many of the photographs are disturbing; sexual predation on the young, misogynistic, self-annihilating. And others are a frank celebration of sexuality, youth and riding so close to the edge you can taste it.
The photographers who captured the mania of these tours and concerts survived the debauchery and lunacy, emerging as brilliant artists on a hero's journey. In the words of Johnny Rotten, "Love is 2 minutes and 52 seconds of squelching noises." I loved it. I had a front row seat with no one stage-jumping onto my head. The exhibit is open until October 7th.  It's a must see.  Here's the teaser…
---
---