When You're Over 45 You Might Need To Have The "Second Talk"
It's June 27th, 1975
My 10th birthday. Will I get a fast growing hair Barbie? I rip through the Snoopy wrapping paper to discover … Sweet Suzie's Starter Menstruation Kit. WTH?
"Go ahead, honey, open it," says my mom, face shining beatifically as if I were the first female astronaut.
(Perhaps foreshadowing Lisa Nowak wearing her premeditated murder diaper circa 2007).
Then mom and I proceed to have the "First Talk" about when Flo comes to town. You can imagine my sense of betrayal that once a month, every month, for the rest of my childbearing years I'd have to forego drowning my brothers in a friendly game of Marco Polo in the backyard pool.
Guess what? Very soon I'll be able to drown my brothers any time of the month I choose because I'm 47-years old, and it's time my mother and I should have the "Second Talk": What to expect during Menopause.
Here's what I know about menopause from Oprah.
It will be the worst thing that's ever happened in your mother-loving life.
Hot flashes.
Insomnia.
Depression.
Vaginal Dryness/Odor (ack!).
Lower Sex Drive.
Unwanted Hair Growth.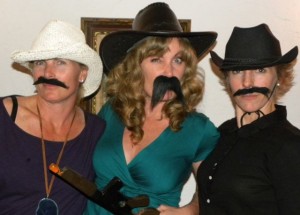 And oh yes, Zombification. This is where you try to eat the ones you love.
But guess what? There's a "Second Talk" Menopause Kit! aka the Poise Feminine Wellness Line.
Full disclosure, Poise and BlogHer is sponsoring this post, but it's perfect for my site and for this time in my life.
I love the idea of a "Second Talk" because it feels like a new beginning rather than the road to oblivion.
I'm hopeful there will be much gained in this life transition, and Poise is offering products to allay some of menopause's irksome symptoms.
(I've thoughtfully pointed out how they can be helpful for men, too!)
Roll-On Cooling Gel: helps you feel comfortable and refreshed when a hot flash strikes. Squeeze the tube and gently roll the cooling gel on wrists, chest, or neck for a cooling sensation that lasts up to 10 minutes.
(Men: this can be useful for you when watching Sofia Vergara on Modern Family with your wife in the room. Never let her see you sweat!)
Personal Lubricant: is designed to enhance your intimate moments. This lubricant features an easy to use bottle and is glycerin, paraben and fragrance free.
(Men: especially helpful as a scent-free aftershave lotion).
Feminine Wash: provides daily freshness with a unique formulation that is pH balanced for your intimate area. Glycerin and paraben free, this gentle wash has a non-irritating formula and will help you feel clean and confident.
(Men: have you smelled your undershirts lately? Trust me, you can use this stuff. Don't get me started on your tightie whities).
Poise wants to make sure that all women feel comfortable and confident heading into the next stage of womanhood.
Take the Pledge to have the "Second Talk" before October 18th, which is World Menopause Day, and join the conversation.
When were you most mortified by bodily malfunction?
(For me that would be when I was standing in a full gymnasium for my high school Spanish teacher's retirement, ran into my unrequited high school crush and had my first hot flash. They say timing is everything.)
And when are you most confident? (For me that would be when I make a beach landing behind enemy lines in full Navy Seal gear.)
Leave me a comment with your answer to be entered for a chance to win a $250 Visa gift card, courtesy of BlogHer and Poise!
Have the "Second Talk" with me xo
---
---