The Effects of Divorce on Children: How My Parents' Divorce Turned Me Into Jason Bourne
I Always Thought I'd Make a Good Spy.
Like Jason Bourne, I'd speak fluent English, French, Russian, Dutch, German, Swedish, and Spanish; my other special skills would include hand-to-hand combat; a mix of Filipino Kali and Jeet Kune Do.
I'd have supreme efficiency in handling numerous vehicles, and would possess a Brazilian passport with a Portuguese name: "Gilberta de Piento."
I felt qualified because my parents divorced when I was three and I orbited two homes as disparate as Jupiter and Mars.
My mom remarried a police officer who had two sons that were three and six years older than me and we lived on a 69-foot sailboat in a white-trash, run-down harbor in Antioch, California, where Jaycee Dugard was kidnapped and kept as a sex slave for 18 years.
My dad lived in Upland, California in a tract housing development similar to the one Edward Scissorhands landed in. He lived with his second family who were Mormon and bathed once-a-day, compared to the once-a-week ratio at my mom's.
In The Harbor
I learned my Bourne-like skills of hand-to-hand combat in order to survive older brothers when necessary and the supremely efficient handling of my Schwinn Stingray in order to flee them when I got in a good punch before they could recover.
I'm missing half my right front tooth thanks to a laughing face-first collision with my mom's parked 1969 Volkswagen van. I was racing from the scene of kicking my stepbrother Derry in a tender region. The broken tooth… my just desserts, I suppose.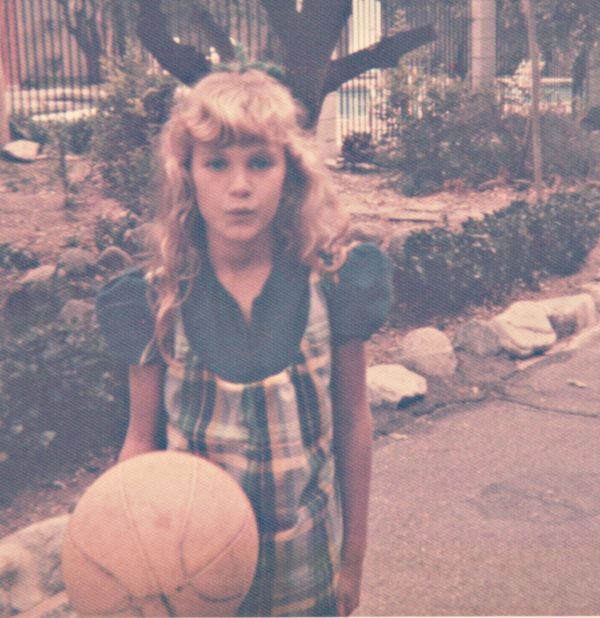 (I once pinned my same-age cousin Billy to the ground in front of both of our families and wouldn't let him up until he said, "Shannon's much stronger than me." I was a punk.)
In The Suburbs
I wore dresses and attended three hours of Sunday school on the weekend. I tried to keep my penchant for cursing at bay and my hands to myself. I wasn't always successful as I broke one of my younger sister's arms accidentally, just by being rough the way I was with my older brothers.
Don't get me wrong, my younger sister could fight just as well as I could, but knew how to get me in trouble by biting her own arm and saying I did it.
(A tactic she learned from me when she stayed with me at my mom's house and saw me use the same ploy to get my older brothers in trouble.)
I likened transitioning from my dad's to my mom's homes and back again to being an astronaut re-entering earth's atmosphere.
If the spacecraft should re-enter the earth's atmosphere even one micro-millimeter off, it will burst into a huge fireball, burning and killing everyone inside!
I had to get my tomboy on as soon as I got to my mom's and curb my penchant for swearing and giving annoying people the bird when I got to my dad's.
There were years I haaattteeeddd being a child of divorce, but as an adult now, I wouldn't change a thing. Which makes me the perfect candidate to recommend watching HBO's brand new series DIVORCE.
DIVORCE premieres Sunday, October 9th at 10pm on HBO starring Sarah Jessica Parker and Thomas Haden Church.
After more than a decade of marriage and two children, Frances (Sarah Jessica Parker) has suddenly begun to reassess her life and her strained relationship with her husband Robert (Thomas Haden Church).

She soon discovers that making a clean break and a fresh start is harder than she thought. This is the story of a very, very long divorce, the show follows Frances and Robert as they grapple with the fallout from their failing marriage, not just for themselves, but also for their children and friends, ranging from awkward public encounters to difficult private therapy sessions.
I had the great good fortune of having four parents and eight grandparents; experiences varying from finding myself at the age of 9 rowing a tiny dinghy with an 11-year-old friend in the windy chop of the San Francisco Bay trying to land on Angel Island before capsizing, to giving inspirational talks about the importance of humility to a sea of Mormons, wearing a dress that covered my shoulders.
If it weren't for these wildly disparate experiences I doubt I would've had such a lust for travel, new adventures and the desire to write about all of them.
We are the sum total of our experiences and because of my parent's divorce I feel like I received twice my share.
I love you moms, dads, brothers and sister. xoxo S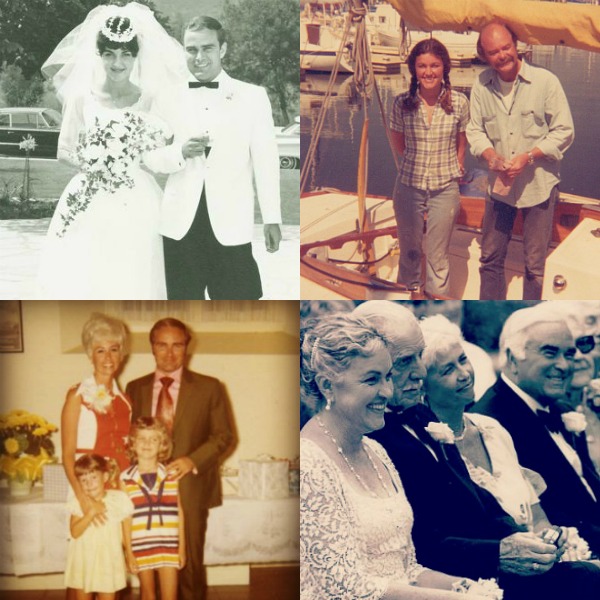 (Upper left: my mom & dad on their wedding day. Upper right: my mom and stepdad John on their boat during their hippie days. Lower left: my dad and stepmom Gini on their wedding day. (I just call Gini "mom" now, because that's who she is.) Lower right: all of my parents on my wedding day.)

In the comments section below, for a chance to win a $100 gift card, tell us the positive outcomes of your parents' divorce. 
Learn more about DIVORCE on HBO: Facebook|Twitter|Instagram|YouTube
Entry Instructions:
No duplicate comments.
You may receive (2) total entries by selecting from the following entry methods:
1. Leave a comment in response to the sweepstakes prompt on this post
2. Tweet (public message) about this promotion; including exactly the following unique term in your tweet message: "#SweepstakesEntry"; and leave the URL to that tweet in a comment on this post
3. Blog about this promotion, including a disclosure that you are receiving a sweepstakes entry in exchange for writing the blog post, and leave the URL to that post in a comment on this post
4. For those with no Twitter or blog, read the official rules to learn about an alternate form of entry.
This giveaway is open to US Residents age 18 or older (or nineteen (19) years of age or older in Alabama and Nebraska). Winners will be selected via random draw, and will be notified by e-mail.
The notification email will come directly from BlogHer via the sweeps@blogher email address. You will have 2 business days to respond; otherwise a new winner will be selected.
The Official Rules are available here.
This sweepstakes runs from 9/26/16– 10/23/16
Be sure to visit the DIVORCE brand page on BlogHer.com where you can read other bloggers' posts!
---
---