Taryn Brumfitt's Before Photo was "Fit," And her After Photo was "Fat:" and why we should Celebrate that
Aussie mother of three, Taryn Brumfitt, found her body "disgusting." In an effort to love her body she entered a weight-lifting beauty competition. She made her body perfect by Western standards and still felt disgusting. Thus she began The Body Image Movement.
You have got to see her story. For me it's on a par with Dove Campaign's Sketches and Selfies projects. Gorgeous, ballsy, raw and so powerful. Enjoy Taryn Brumfitt: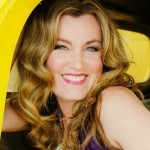 Sign-Up for Monthly Tips & Tales on Beauty, Body, Babies, Bye Asshats & Bodacious Sex from TWFKAB:
I promise NO SPAM or I'll eat my own weight in Malomars.
---
---